Chaturbate Review
Chaturbate is a great cam site for users looking for free sex cams and tip based shows. There is a massive selection of webcams from all around the world. There is a huge selection of HD and HD+ cams, with some rooms even going in full 4K resolution. While going cam2cam on Chaturbate isn't as simple as on other sites, it can still be done relatively easily.
Chaturbate's Strengths
Cam2cam available during public and private shows
Negotiate a price or make a tribute to activate cam2cam
Chaturbate's Weaknesses
Cam2cam requires a lengthy set up process
Cam2cam is not available on mobile devices
Not all models offer cam2cam
Chaturbate's Selection
In terms of single cam sites, Chaturbate has the biggest selection. During most times of the day, Chaturbate has over 4,000 webcam rooms to choose from, all of which are also listed on our homepage.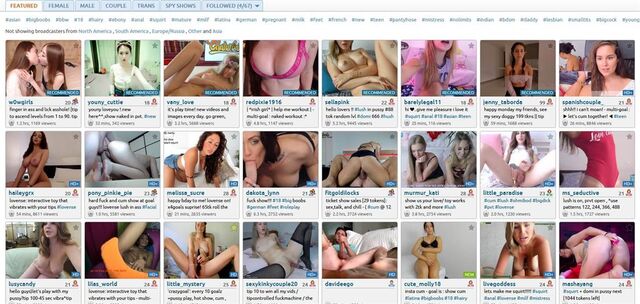 While most of the cam rooms are female, there is a massive selection in the male, couples, and trans categories too.
In fact, Chaturbate has more options in each category than any other site does.
The number of webcam rooms on Chaturbate can be overwhelming, especially since the site didn't do the best job with their tag system. You will find that some cam girls tag themselves randomly for everything and anything.
Some people just don't understand that when you are looking for something specific, that's what you want to see.
Exhibitionists on Chaturbate
Chaturbate has a lot of exhibitionist. Some are cam girls who registered but haven't been verified yet and some are genuine women looking to get off in front of people. Most of the male exhibitionist cam rooms are just guys jacking to random cam girls, hoping they will come watch them back. If you want to c2c, we recommend setting up a password.
Chaturbate's Free Shows
Most of the users on Chaturbate spend all of their time in the free cam rooms.
In these rooms, you can chat to the models, buy media, or tip for requests and towards goals. The models are at complete liberty to set prices for their tip menus and for uploaded videos and images. As a free user, you will be muted and unable to participate in most rooms, but buying a tokens package even just once will change that.
Unlike on most cam sites, you can cam2cam in the free rooms on Chaturbate, though you will still need to pay for it by tipping.
As arguably the most popular cam site in the world, Chaturbate often has chat rooms with thousands of users watching. We've witnessed rooms with over 40,000 guests in the audience.
Chaturbate's Private Shows
Private shows are where you can get more intimacy out of the models. You are alone with the cam girl, for a per minute fee.
Privates cost 6, 12, 18, 30, 60, or 90 tokens a minute, and you can scroll to the bottom of the page to search by price. Some girls have a minimum number of minutes you have to pay for.
Unlike other cam sites, cam2cam is not included in private shows. Some of the models will let you c2c for free, but it is up to the model to decide. Some models will let you c2c for an additional tip, while others won't let you c2c no matter how many tokens you throw at them.
Some of the cam girls include a free recording of the private shows you do with them. You will get a copy added to the My Collection section of the site within 15 minutes of the end of the show.
You can also do Group Shows, which are cheaper semi-private shows. You only have to deal with 3 or 4 other viewers, instead of hundreds/thousands.
Chaturbate's Prices

In the following table you can find the price per minute of the different rooms, depending on the tokens package you selected. As you can see, the larger packages give significantly more tokens, saving you a lot of money in the long run.
| | | | |
| --- | --- | --- | --- |
| Tokens/min | 100 tokens | 200 tokens | 500 tokens |
| 6 | $0.66 | $0.63 | $0.54 |
| 12 | $1.32 | $1.26 | $1.08 |
| 18 | $1.98 | $1.89 | $1.62 |
| 30 | $3.30 | $3.15 | $2.70 |
| 60 | $6.59 | $6.30 | $5.40 |
| 90 | $9.98 | $9.45 | $8.10 |
Freebies on Chaturbate
Chaturbate doesn't really give you any freebies. Your best option is to buy the more expensive tokens package to get a bigger bonus.
You can claim 200 free tokes once after completing your first purchase, by completing the form to raise your spending limits. A link to it can be found on the credits package options page.
Chaturbate's Customer Support
The customer support on Chaturbate gets the job done, but is limited to email exchanges only.
Chaturbate tries to answer most of your questions with the FAQ, with emails being available for anything else. Unlike on premium orientated sites like LiveJasmin, you don't have access to live chat support or to a phone number to call for immediate resolutions. Sometimes, it will take a few days of back and forth emailing to fully resolve an issue.
Chaturbate Supporter Package
For $19.95 a month, you can become a Chaturbate supporter. You can look at it as tipping the people that built the site.
You gain the ability to PM anyone, the option to change your font and text color in the chat rooms, and an ad-free interface.
We personally don't think that the features are worth $20 bucks a month, but getting the 200 free tokens (valued at $20.99) for the first month is pretty nice.
So should you spend your hard earned cash on Chaturbate?
At the end of the day, Chaturbate's main selling feature is the huge selection of cam girls and how hot they actually are. Chaturbate has some serious stunners. You will find plenty of cam girls that are hotter than any actress on the silver screen. The front page looks like a glorious nude beauty pageant. We highly recommend heading over and checking out who you would vote as queen.