How to Become a BongaCams Cam Model
BongaCams is an award-winning freemium cam site with huge international appeal. It turns amateur webcam models into stars, while giving them some of the best benefits and commissions in the industry. If you're looking for a platform where you can get your freak on, rise to fame and make a good amount of money while enjoying every minute of it, then BongaCams may be the right choice for you.
But first, you'll need to register yourself as a BongaCams webcam model. Doing so is rather simple, but to save you some time figuring out the process for yourself, here are the 5 simple steps you'll need to take to start making money on BongaCams. Click the button below to get started.
Step 1: Start the signup process
The above button will take you directly to BongaCams' model registration page. Click the gold Sign up now button to proceed.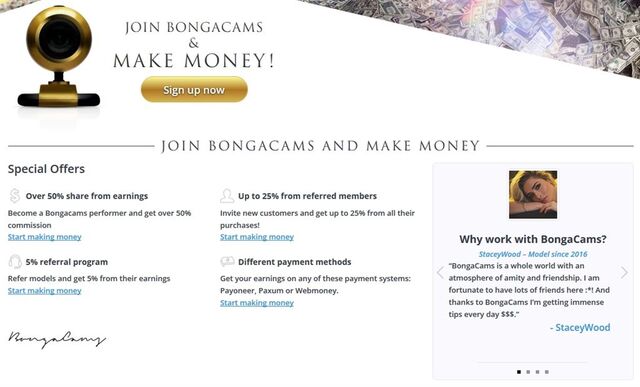 Step 2: Enter your email, username and password
This is where you choose your username and password, and enter your email address.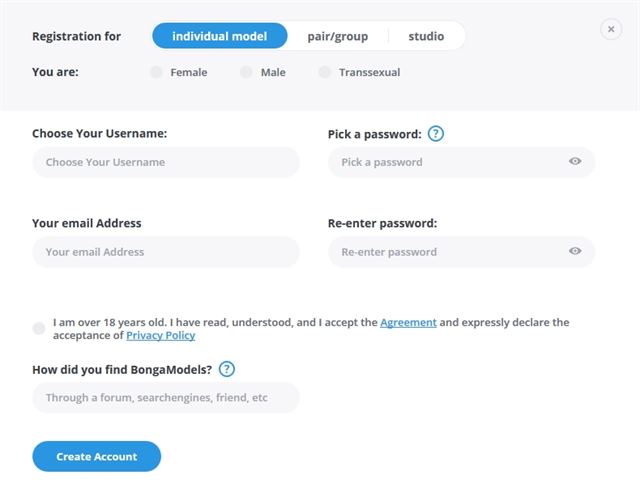 The password must be at least 6 characters and include one uppercase letter and one number. The username can't contain only numbers and the email must be a valid one that you can access. If you plan to stream as a pair/group or out of a studio, then change the selection at the top. You'll need to confirm your email by clicking the Confirm Your Email button in the mail the site sends you.
Once you're done, check the box to confirm that you're over 18 years old and that you agree to BongaCams' Terms & Conditions and Privacy Policy. Afterwords, click Create Account.
Step 3: Enter your personal details and upload relevant documentation
In order to get your salary, you'll need to fill out your contact info here. You'll also upload a picture of your ID, a picture of your face, and a picture of yourself holding your ID. These are precautionary measures taken by every legitimate cam site to avoid minors and bots from registering to their platform.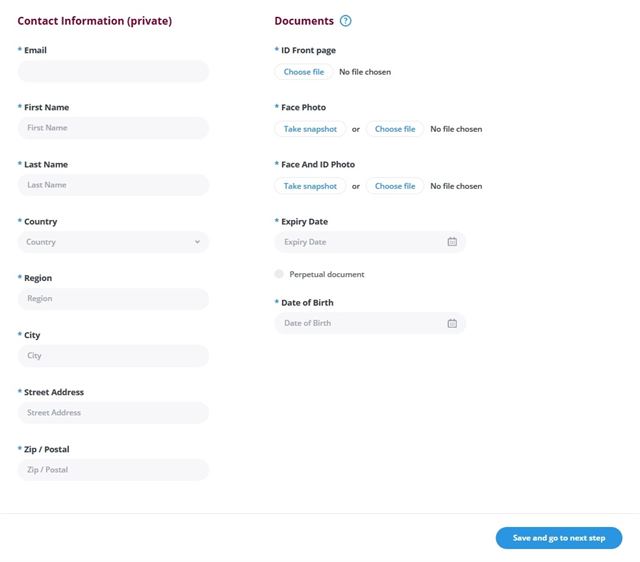 All the information and documentation entered here is 100% private and will not be available in any way to any member of BongaCams. It will also not be shared by the site or used for anything except to confirm your identity and make sure the money you earn will get to you.
Step 4: Enter your model details
This is where you choose your profile photo and enter the information that BongaCams members see when they look at your profile.
First up is your Profile Photo. You can either choose one from your collection or take a snapshot with your webcam.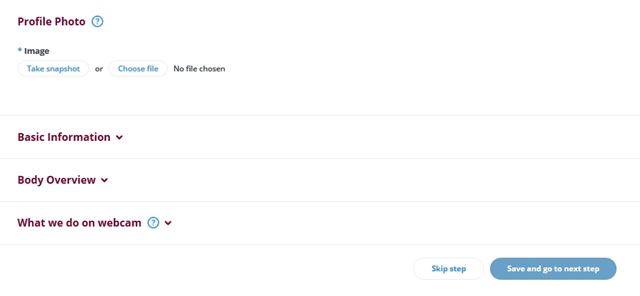 Here are the mandatory requirements for your profile photo:
Does not feature nudity (lingerie shots are ok).
Is of good quality (not blurry, grainy or fuzzy).
Shows only you and people you perform with, and no one else (not even pets).
It features you (no photos of other people, drawn depictions or any filters).
Next up is your Basic Information.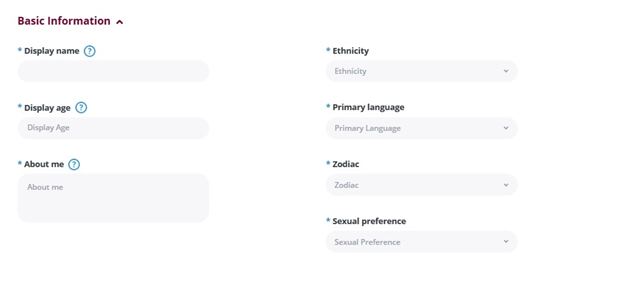 You can choose any nickname to be your Display name, as long as it's not already in use by another model. Your Display age need not be your actual age. You can choose any age to enter here as long as it is 18 or above. Your About me section is intended for members to get a better idea about your personality and what kind of performer you are. It must contain between 25-75 letters.
Now for the Body Overview.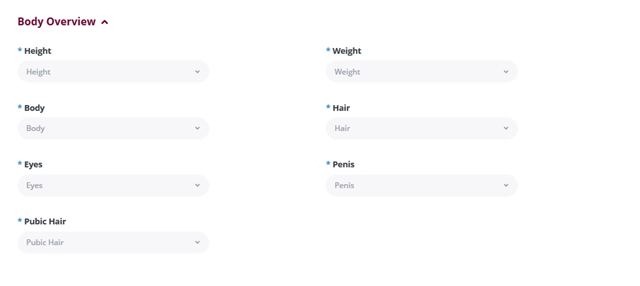 I suggest you fill this out according to how you actually look and even keep it updated, as it will help you draw relevant clients.
Finally, we've reached the What we do on webcam section, where you fill out your sexual preferences and what you're willing to perform.
You need to select at least 5 of the sexual activities above. Do not select anything you're not 100% sure you're willing to perform, because members can see these and will request things accordingly.
Step 5: Enter your payment information
Not much to explain her, really. You choose how you want to receive your earnings.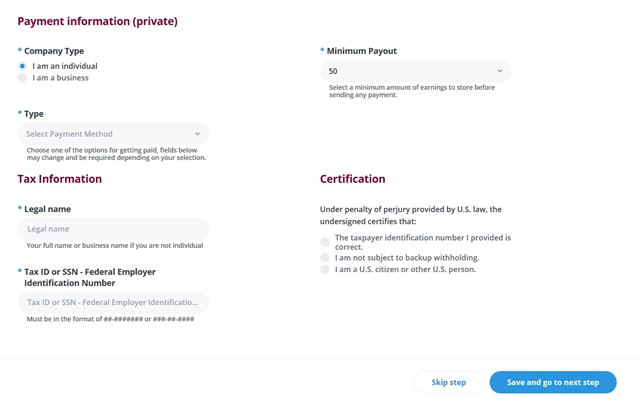 After proceeding, you'll be asked to check that you've read the BongaCams Agreement. You'll then need to click Submit and go to account. You'll then be led to your BongaCams model account within the BongaModels platform.
That's it! Your account details will be reviewed by BongaCams staff. If everything is in order, you'll become an official BongaCams model.
Overview and Tips
BongaCams is possibly one of the best adult chat sites to work for. It has amazing benefits and commission rates. The baseline commission is 5 cents per token, which is 50% commission. You'll get this if you follow the BongaCams baseline instructions for your account (like having a schedule, filling out your wishlist for your fans, and other things you should do anyway). This is a higher commission that what's offered on most cam sites.
Now for a breakdown of the huge amount of benefits offered by BongaCams:
Regional blocking: This allows you to stay discreet in your place of residence and block your family and friends from seeing you perform.
DMCA services: Models are occasionally faced with the problem of their broadcasts recorded without their permission. These videos can be found on third-party websites which causes a lot of inconvenience. BongaCams offers you legal services to combat that, for free. This is available by simply clicking the LAWYER HELP button in your account.
Chargeback protection: A "Chargeback" is where someone disputes a credit card claim and the charge gets reversed. Some networks subtract the chargeback from the model's pay. BongaCams protects from chargebacks, and you'll never have money deducted from your account do to reversed payments.
Content and price control: You may sell movies, images or recorded shows of yourself, and you're the one who sets their price. BongaCams handles all the transactions and delivery of the content.
Cam Splitting: Cam-splitting requires the use of special software, and enables performers on multiple sites at the same time. Splitting is generally used by performers doing private chats. The performer is able to remain in public on multiple sites until someone books a private on one of those networks. Doing this gains increased exposure across multiple sites and generally results in more private sessions. This is allowed by BongaCams.
Mobile App: BongaCams' mobile app allows live streaming on BongaCams straight from your phone or tablet. You are no longer bound by time or location, and you'll be able to earn money no matter where you are. This is available on both iOS and Android.
Referral Program: After signing up, referral links will be available directly within the BongaModels platform. You'll have a referral link for new customers (25% share of revenue) as well as new performers (5% share of revenue).
Affiliate program: It's called BongaCash, and it allows you to run your own rebranded version of the site, and get a percentage of all the sales that occur on your version. This is amazing for more experienced models that want to take their careers to the next step.
Hot Mode: This is activated after you spend a certain amount of time online during an ongoing period. In your account and on the broadcast page you will find a personal timer that shows how much time you have left to spend online to activate Hot Mode, which increases your commissions by 10% and remains until the end of the payment period.
On-Request Payouts: You can withdraw the money you earned whenever you want. On the "On-request payouts" page, enter the amount you wish to withdraw and press "Request a payout" to receive the money to your e-wallet (WebMoney, ePayService, Paxum or ePayments) within 30 minutes. This option is only available to models with at least $200 in total payouts over the last 6 months.
TOP of the Week Promotion: If you make it to the top 100 models of the week, you'll win a monetary prize. Your rank is judged by your CamScore, which will be explained later. This promotion is run every week, and the prize pool is $5,000. The higher you rank is, the more prize money you'll get. Here is the breakdown according to ranks:

1) 1000 US dollars.
2) 500 US dollars.
3) 300 US dollars.
4-15) 100 US dollars.
16-30) 50 US dollars.
31-50) 25 US dollars.
51-100) 15 US dollars.

Weekly payout: You get paid once a week, on Friday. The minimum payout is $50. If you have fulfilled the conditions of early payout, the payment will be made on Tuesday.

Conditions for Models: you have spent at least 3 hours online on the website on Friday, Saturday, and Sunday (on each of the specified days).
Conditions for Studios: half of the Active Studio Models have streamed at least for 3 hours on Friday, Saturday, and Sunday (on each of the days specified).
Here are the available payout methods:
Paxum (3% fee)
ePayments
ePayServices
Check sent by mail (no processing fee)
Check sent by FedEx ($40 processing fee in the US, $80 internationally)
Direct deposit (no processing fee, US only)
Several digital currencies, including Bitcoin (fees may apply)
BongaCams uses what it refers to as a CamScore. This score determines the placement of your chat room on the main page. The higher it is, the more visible your chat room will be to BongaCams members. Here are some tips to help you increase your CamScore:
Earn as much as possible. The best way to increase your score is to earn more tokens (the in-site currency) through tips, gifts, private, group and voyeur chats, and so on.
Spend a lot of time online. You will get extra points for going online every single day. However, being away for longer than two days will result in your CamScore gradually decreasing. Hot Mode increases the amount of CamScore points you generate by 25%.
Make sure your Internet connection is reliable and fast enough to support the broadcast. Models with a poor Internet connection will never be listed at the top of BongaCams' models list, no matter how many tokens they earn or how much time they spend online.
Promote BongaCams. You get points for every model and paying member you introduce to the site through the referral program.
Just for your information, here is the average CamScore on the site by region:
North America – 268
Western Europe – 322
CIS countries – 436
All other countries – 308
Want to earn tons of money? Then make sure your score is well above the average one in your region.
All in all, if you're looking for the cam site with the best benefits, but you also want to make bucketloads of cash, then BongaCams is a fantastic choice for you.