How to Become a Cams.com Webcam Model
Cams.com is a premium adult chat site that promises huge payouts to dedicated models, along with a plethora of ways to earn even more by generating a loyal fan base. If you're in it for the money, as well as for the hot, messy fun, then Cams might be the perfect camming platform for you.
But first, you'll need to register yourself as a Cams webcam model. Doing so is rather simple, but to save you some time figuring out the process for yourself, here are the 5 simple steps you'll need to take to start making money on Cams. Click the button below to get started.
Step 1: Start the signup process
The above button will take you directly to Cams. model registration page, which is operated by StreamRay.com. Click the red Get Started button to proceed.

Step 2: Create your model account
This is where you enter your email (must be a valid one) and date of birth (must be the same as the one written in your ID) and choose your username and password.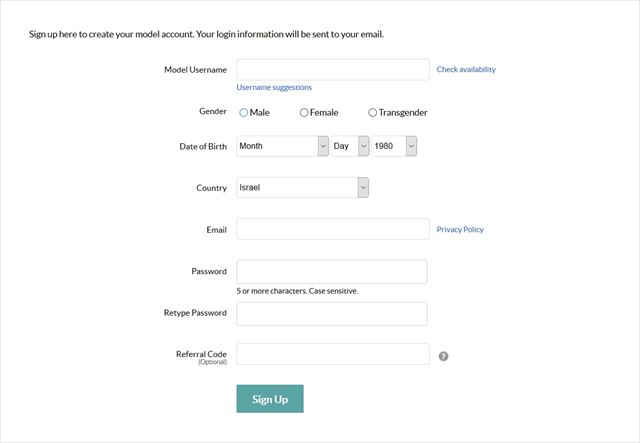 Once you're done, click Sign Up.
Step 3: Upload identification
You'll need to submit a copy of your current government issued photo identification document, e.g., passport ("Photo ID" or "ID"). Make sure your photo, legal name, date of birth and all the numbers on your ID are clear and readable.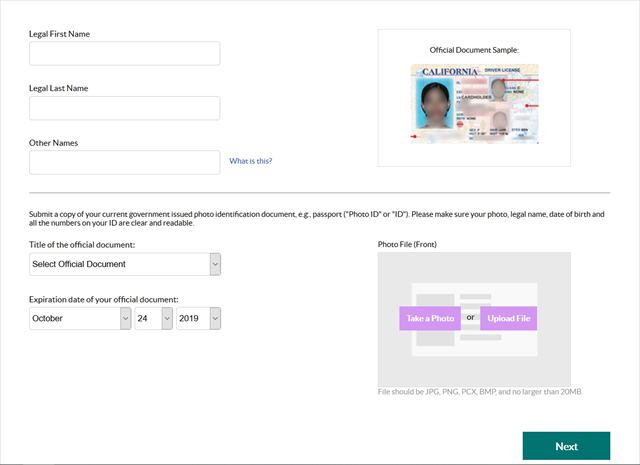 Once you're done, click Next.
Step 4: Verify your ID
Submit a high-quality picture that contains a close-up view of your face and Photo ID (Poor quality pictures may cause delays in the approval process). The file needs to be a JPG, PNG, PCX, or BMP file, and no larger than 20MB.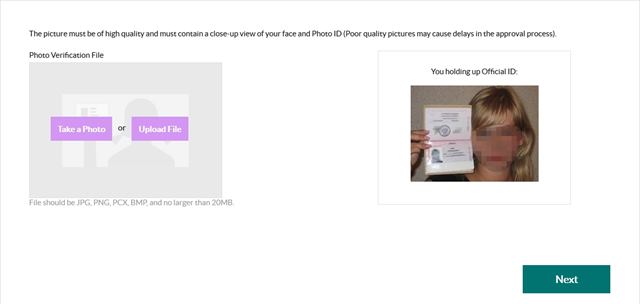 Once you're done, click Next.
Step 5: Agree to the StreamRay Broadcast Agreement
You'll see the long StreamRay Broadcast Agreement and, and if you accept the terms, you can then type in your legal name in the signature bracket and click 'I Accept'.
That's it! Your account details will be reviewed by Cams staff, and, if everything is in order, you'll get a confirmation email notifying you that you're now an official Cams model.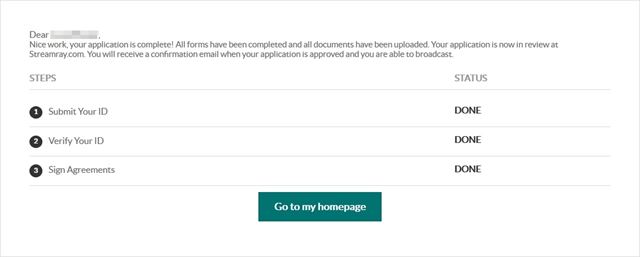 You can click Go to my homepage to check out your StreamRay model page.
Overview and Tips
Cams is an excellent camming platform for maximizing your revenue share. It offers a good percentage of the revenue and gives models lot of chat types, which gives them a good amount of freedom when it comes to the nature of your cam show and how you run it. The site (or, more accurately, StreamRay) works on a tiered system. The more tokens you get members to spend on you, the bigger your share of the revenue is.
Here's a breakdown of the different tiers and percentages that performers can earn:
32% – Up to 50,000 tokens ($5,000)
50% – 50,001 and 60,000 tokens ($5,001 and $6,000)
60% – 60,001 and 100,000 tokens ($6,001 and $10,000)
70% – over 100,000 tokens ($10,000)
Amounts are calculated per payment period. Contests, income from the bounty program (more on that later) and any other bonus programs do not count towards the calculation in regards to the tiered income.
Now for a breakdown of the different programs, bonuses and benefits offered by StreamRay, which is henceforth referred to as Cams for the sake of clarity:
Chargeback protection: During the 90 days after the first broadcast, you will be responsible for any chargebacks of tokens spent on you. After 90 days, Cams will bear all the chargebacks other than for tips, virtual gifts and fan club memberships.
Make money from selling clips of past shows: Cams records selected clips from your best shows and posts them on your public account for members to access. You get paid a percentage when a member accesses these videos. This means that you can basically make money without having to lift a finger.
Fan Clubs: At an additional monthly fee, any Cams member can get a discount when they access your premium shows, and get free access to your pre-recorded shows and photos. They will also have the ability email you at your Cams address.
Referral Program: Cams models earn 100% of the revenue for any new member that joined the site with their referral code. After the first 6 months, the percentage changes to 80%. You also make money from referring new models. Here are the percentages models will earn from model referrals:

Month 1-2: 36%
Month 3-4: 24%
Month 5-6: 12%
Month 7-8: 6%
Month 9-10: 4%
Month 11-12: 2%

Bi-monthly payout: You get paid twice a month, on the 16th and on the last day of the month. If you do not reach you minimum payment (varies according to your payout method), your earning will roll over to the next payment period. Here are the available payout methods:

Check - Paper checks are available for US and Canada only and are free of charge. Minimum payment is $50. Can take up to 2 weeks for delivery.
ACH / Direct Deposit - Available for US only. Minimum payment is $50.
Paxum - Minimum payment is $50.
Wire Transfer - Minimum payment is $120. Payment arrives 2-3 days sooner than paper check. Wire transfer fee is $10 for US, $20 for international.
All in all, Cams gives you a lot of ways to earn more money, and even goes so far as to work for you and earn money on your behalf. It's a fantastic platform for anyone who wants to earn a bigger paycheck, and a great way to generate a loyal fan base and a steady passive income.