How to Become a Flirt4Free Cam Model
Flirt4Free is well known for giving its members a ton of freedom in how they use their services. Well, it turns out that this freedom is extended to Flirt4Free's models as well. You'll be free to choose your times, rates, and clients, among other things.
Flirt4Free is especially good for English-speaking models, who prefer to take things slow in private chat than entertain the masses while nude all the time in the open chat. It's a great place to get started camming, and a fantastic place to earn a living.
First, though, you'll need to register yourself as a Flirt4Free cam model. Doing so is rather simple, but to save you some time figuring it out for yourself, here are the 10 simple steps you'll need to take to start making money on Flirt4Free. Click the button below to get started.
Step 1: Start the registration process
The above button will take you directly to Flirt4Free's model registration page.

Click the blue BECOME A MODEL button to proceed.
Step 2: Fill in your details
You'll need to enter your personal details here.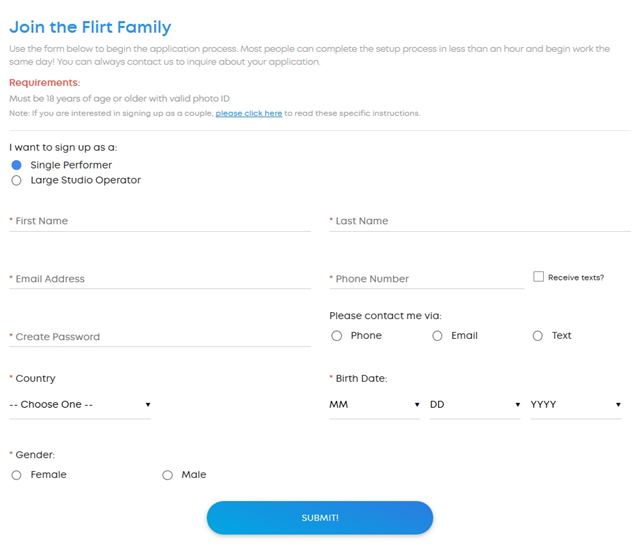 Fill in your details and click the blue SUBMIT! button to continue. Note that your password must be at least 6 characters long and contain at least one number and one uppercase letter. Also, if you want to sign up as a couple, click the link at the top of the form and follow the instructions.
As a side note, the email confirmation prompt shown below will follow you throughout the process unless you click on the link sent to you by Flirt4Free to confirm the email is valid.

Step 3: Upload a photo of yourself
Here, you'll need to provide an application photo of yourself.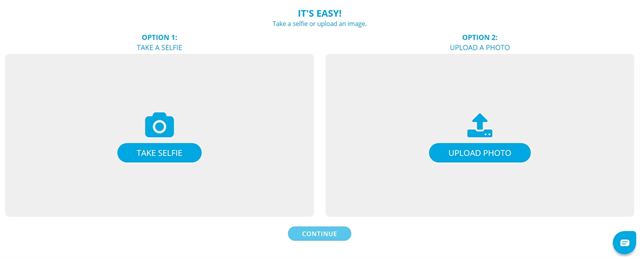 Only 1 photo is required. Choose TAKE SELFIE if you want to use your webcam to take a selfie for this purpose. Choose UPLOAD PHOTO if you already have a photo in mind. The file size limit is 10MB per photo. Whatever you choose, the photo you upload will not be used on the site, and will only be used for your internal picture and for approval. You can always change this later. Make sure that the photo is of decent quality and has no filters, like in the examples below:
Step 4: Choose a stage name
Pick a stage name for your Flirt4Free model persona.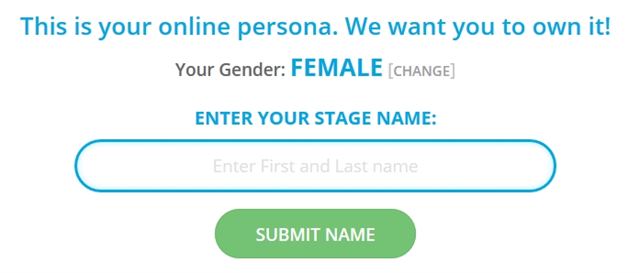 Just make sure to follow the guidelines below:

Your Stage Name will be reviewed by the site, which should only take a a few minutes. The page will automatically refresh every minute, so just wait a bit and you'll be notified when the process is done. Once approved you will be able to continue your sign up process.
As a side note, Flirt4Free offers you suggestions of pre-approved stage names, but from my experience these are all in use and will only help you get an idea of a stage name that you can create for yourself.
Once you're done, you'll get this message:

Click the blue Continue to Model Record button to continue.
Step 5: Complete your legal record
Flirt4Free needs your basic info to approve your account. The information requested must match what is on your photo ID and 2257 form, and is strictly for our the purposes of confirming your identity. Your information is secure and will never be publicly exposed by the site.

You will also be asked to choose which category would you like to appear under on the site. Choose one you feel represents you or your sexual preferences.
Step 6: Upload Photo ID
Upload a clear scanned copy of your photo ID card.

You'll need to re-enter your date of birth. Note that your ID cannot be expired, must be government issued, and must show your birth date (you must be 18+). Examples for this are shown below: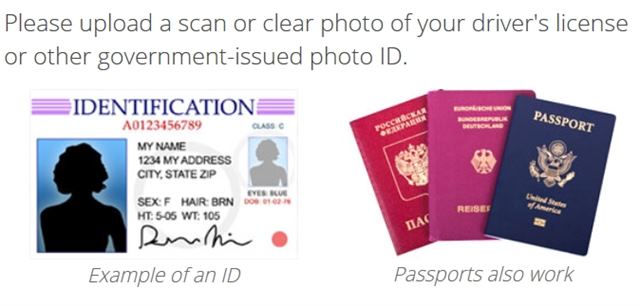 Once you're done, click the blue Submit button to proceed.
Step 7: Complete 2257 Form
This form is legally required for all performers in the adult industry, which, naturally, also means webcam models. This will be kept on file by the site for legal purposes to prove that you are over 18 years of age. You do not need to print this out; simply fill in all of the boxes below with your accurate info, click the blue Generate & Sign PDF button, then click Submit.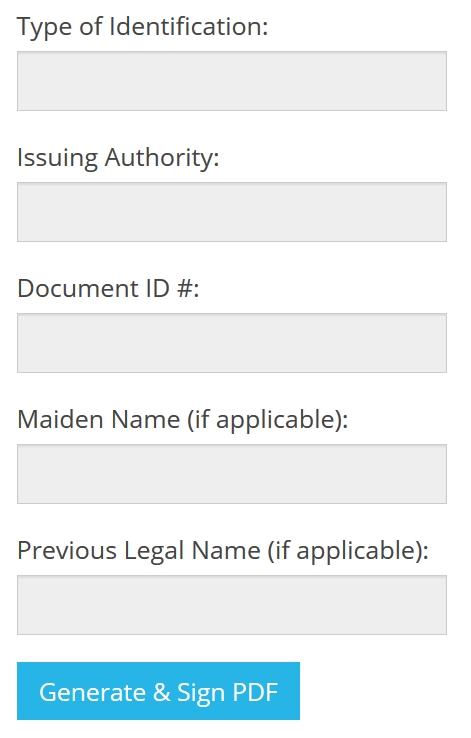 Step 8: Upload Photo ID
You now need to upload a headshot photo, a photo from your neck up that clearly shows your face.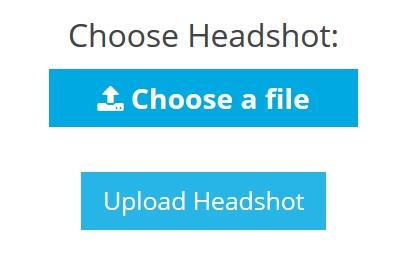 These are the guidelines for the photo:
Must accurately depict your face, and only your face (from the neck up).
Directly facing the camera is required so it can be compared to your photo ID.
The photo from your photo ID is not acceptable as your headshot.
Must be in color, and it must be square (no cropped circle images, etc).
Must have no borders, text or other graphical enhancements are accepted in the photo.
Must be 90x90 (pixels); if you upload an image larger than this then Flirt4Free will use facial recognition software to attempt to create a headshot for you.
Below are a couple of examples of acceptable headshots: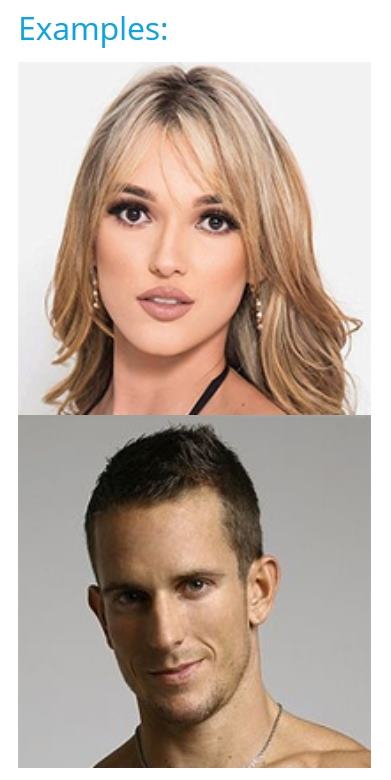 Click Upload Headshot to proceed.
Step 9: Upload Photo ID
You'll need to 1-3 sample photos, which will be displayed on the list of live performers and on your bio.

These are the guidelines for each photo:
Softcore only (no nudity).
There can be no other people in the photo.
Must be a rectangle (no cropped circle images, etc).
Must have no borders, text or other graphical enhancements.
Must not be a copyrighted image.
Must be at least 800x600 (pixels) and in JPG format.
Below are a couple of examples of acceptable headshots: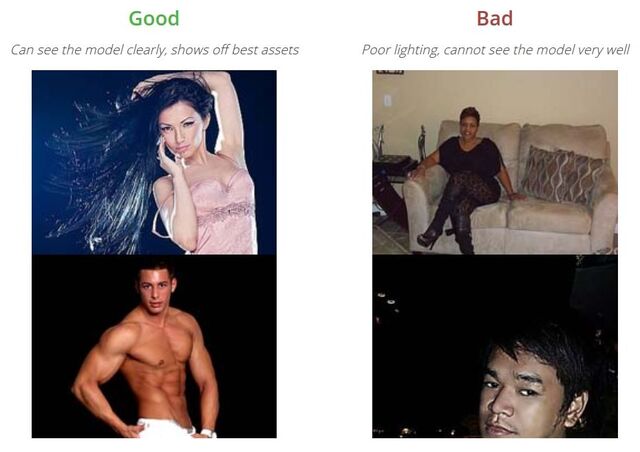 Click Upload Photos to proceed to see how the photos will look, and then click Save Image.
Step 10: Fill out Bio and payment details
This is the last step, and you'll only be able to reach it if you complete all the previous ones. Your bio is where you flesh out your persona so your fans will get to know you. You then decide on how you want to get paid, enter your payout details, and you're done.
Congratulations, you are now a Flirt4Free model.
Overview and Tips
First, know that Flirt4Free takes great care of its models and does its best to help its potential models. If you have questions about anything in the signup process, you can call 1-800-685-9236 (extension 4) for help at any time (they operate 24/7). Know that, while Flirt4Free doesn't require you to have an HD webcam, you'll earn more if you have one. Flirt4Free caters more towards people who enjoy high quality one-on-one chats, which means they're not only looking for a quality model, but a quality video stream as well.
Overall, Flirt4Free offers:
Regional blocking: So you can stay discreet in your place of residence and block your family and friends from seeing you perform.
Content and price control: You may sell movies, images or recorded shows of yourself, and you're the one who sets their price.
Cam Splitting: Flirt4Free allows you to stream on other cam sites, even at the same time that you're streaming on Flirt4Free.
Private Fan Clubs: Members can pay a subscription fee, set by you (average price is around $27.50), to access your Fan Club, which renews every 30 days. Fan Club members get a 5% discount off your shows, their names are highlighted a different color in your chatroom, and they gain access to your exclusive Fan Club content.
Bi-monthly payout: You get paid twice a month. Payouts are made via check or ACH for US models, or wire transfer, ePayments and Cosmo Payment for international models.
The main way you'll earn money on Flirt4Free is through paid cam shows, which Flirt4Free has a lot of options for. The table below will break down Flirt4Free's different chat options and how much they cost the viewer:
| | | |
| --- | --- | --- |
| Chat Type | Description | Price |
| Standard | One-on-one private show with the option for voyeur users to join | 10-60 credits per-minute |
| Premiere | Same as standard, but only offered to select top models due to higher pricing | 60-120 credits per-minute |
| Multi-User | Multiple members in private with no voyeur users | 10-20 credits per-minute |
| Party Chat | Show based off of tips with no private chat option. Note that Rules and Regulations are similar to private shows (i.e. full nudity) | Tip-based |
| Group Chat | Multiple member format that lets models set a credit goal and time length, and then members work together to reach the pledge goal in the specified time, after which the show starts and they get to watch it. Only available to models in the top 50% that use HD | Set by you |
| Feature | Flirt4Free's top 50% of models are able to schedule / participate in feature shows, which are free for VIP. This is the best way you have to introduce yourself to the VIP clientele and get more big spenders on your shows | Free for VIP, costs non-VIP members 30 credits per-minute |
As for your commission, unlike most camming sites, Flirt4Free doesn't have a set percentage. Instead, a Flirt4Free model's commission varies based on a number of factors, such as:
English-speaking performers get paid more
Models who have been with Flirt4Free longer get paid more
Higher conversion ratio means you'll be offered a higher percentage of the revenue
Flirt4Free unfortunately doesn't make their percentage and percentage tiers public, as it varies from performer to performer.
In short, Flirt4Free is great if you prefer quality over quantity, and would rather snag a whale to have fun with for months or even years to come, than net several small fry participants that will forget about you as soon as they cum. Start your new career in the adult industry as a luxury model today, persist, and the money will follow.