How to Become a LiveJasmin Cam Model
LiveJasmin is perhaps the best premium webcam site in the world, and a safe bet if you prefer a more intimate approach to camming, rather than being naked in free chat all the time like on Chaturbate. LiveJasmin has around 1,400 cam models streaming on its platform at any given moment, but if you follow the tips in this guide, you'll have a much easier time standing out among the crowd.
First, though, you'll need to register yourself as a LiveJasmin cam model. Doing so on LiveJasmin is rather simple, but to save you some time figuring it out for yourself, here are the 5 easy steps you'll need to take to start making money on LiveJasmin. Click the button below to get started.
Step 1: Enter your email and password
The above button will take you directly to LiveJasmin's model registration page. Enter your details and check the box to agree to LiveJasmin's "Services Agreement, Sensitive Data and Cookie policies for Models/Studios." You'll need to enter a valid email address, and the password needs to be longer than 8 characters. You'll get green check marks next to all three if done correctly.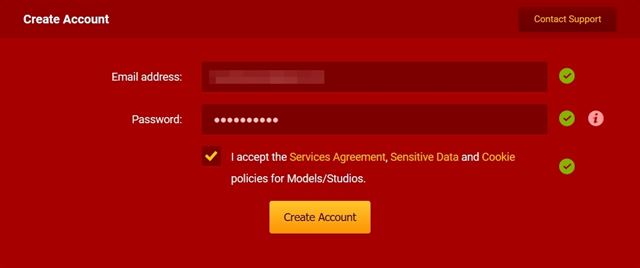 Step 2: Choose your account type
Choose the one that fits the description of the cam show you're planning on. If you're doing this solo, then click on the Single Account. If not, then the Studio Account might be more suited for you and your partner/s.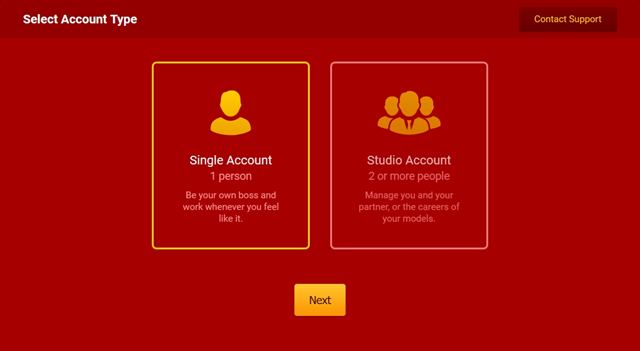 Step 3: Select your category, gender and screen name
If you're already well established in the camming industry or are a celebrity, you can select the Celebrity category. If not, you have three options: Want to fully control how and when you provide erotic content? The Hot Flirt category is for girls (only) that want to act more as a companion than a sex cam model. Do you want to get naughty on cam? Then select either the Nude or the Amateur category, according to if you have HD streaming equipment or not. After that, choose your tag (Girl, Boy, Transgender and so on). This will help people who look for that tag find you. Lastly, choose your screen name. It can only contain between 3-16 letters (only).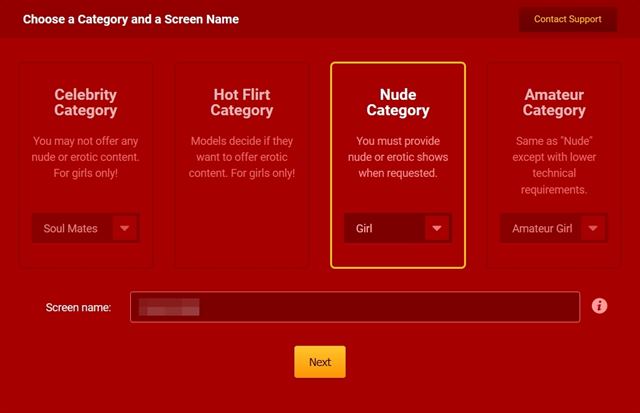 Step 4: Enter your personal details
This includes full name, date of birth, nationality, ethnicity and so on. Entering your phone number is optional, and used only for LiveJasmin's exclusive Video Call feature, which lets you cam on your phone during your off hours.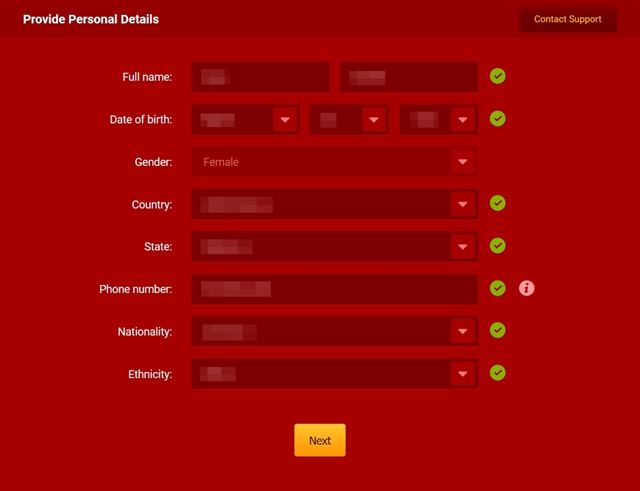 You'll then be asked to provide details about your appearance, so LiveJasmin members can more easily find you through the site's search and categorization systems. The age you enter here is the one that will appear on your profile, and can differ from your real age (by up to 5 years).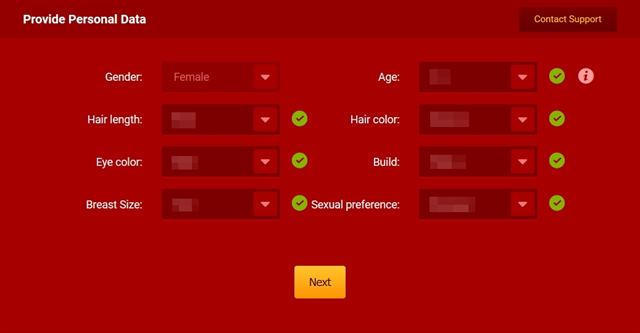 Step 5: Upload documentation
Here is where they check that you're a real person and are of legal age. First, you will be asked for an identifying number, such as an ID.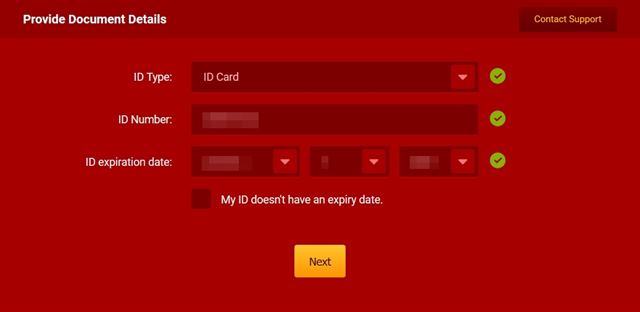 Then, LiveJasmin asks you to upload pictures of your identifying papers, one of them with your face next to them to make sure that they are yours.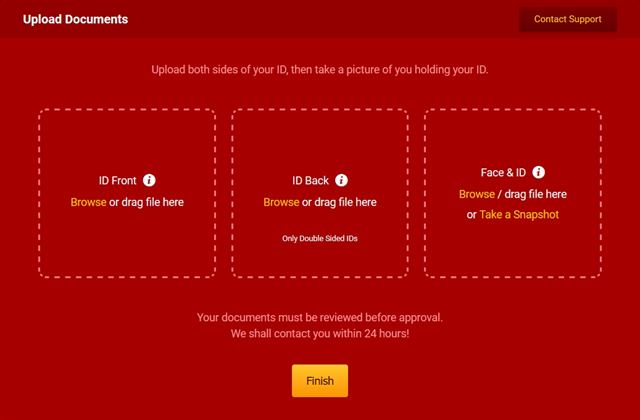 After that, you can press finish. Congratulations! You are done. Your registration details and documents will be reviewed and, if everything is accurate and you are of legal age, you'll be accepted as a LiveJasmin cam model within 24 hours.
Overview and Tips
As you can see from the pictures above, you can contact support at any time. If there's one thing to take from this, it's that LiveJasmin will try to support you through every step of the way, so don't hesitate to contact support at any time. They work 24/7, so I mean it when I say "at any time." LiveJasmin is a fantastic cam site to work for. It has regional blocking in case you want to stay discreet and not have your family and friends see you nude. It allows cam splitting, so you can work on another cam site at the same time, and make even more money. It even covers chargebacks, so you don't get screwed if you spend your time with a member who ended up demanding his money back for whatever reason.
Once you're all set up and ready to go, start you webcam show and chill. Patience is key, especially when starting. You'll need to develop a clientele, since many viewers on LiveJasmin are repeat customers. They know what they like and come back for more, so be consistently cordial and engaged. Since nudity is not permitted in the free chat, don't expect to make a lot of tips there, and instead aim for more quality time in private with people who are willing to pay for some quality entertainment.
If you do not have HD streaming equipment (HD camera internet connection that supports the upload speed needed for it), then start planning on getting one. The fact that you're reading this has already made it evident that you're smart enough to be able to find a good webcam and internet plan that you can easily afford with a bit of online research. So, when you can, take the time and do so. LiveJasmin is a luxurious premium chat site, and only models who stream in high quality get places on here. 720p HD is the minimum, but Full 1080p HD is the recommendation.
The commission LiveJasmin models make is based on a tiered system which resets itself every pay period. You get between 30%-60% of what members pay for private shows with you and the tips they gift you, depending on how much they spend on you per pay period.
| | |
| --- | --- |
| How much money people spent on your shows on this pay period | What percentage of that goes to you |
| Below $100 | 30% |
| $100 - $300 | 35% |
| $300 - 650 | 40% |
| $650 - $1,500 | 45% |
| $1,500 - $2,500 | 50% |
| Above $2,500 | 60% |
Each month consists of two payment periods; the first period of a month lasts from the 1st until the 15th, while the second period of a month lasts from the 16th until the last day of the month. You are paid in full at the end of each pay period. Be aware that there is a minimum amount required to get a payout. You need to earn at least $100 to receive payment. If you do not earn the minimum amount required within a pay period, your balance will roll over into the next pay period until the minimum is achieved. There's an option for immediate payout withdrawal at the Payout Overview section, which becomes available a few business days after the calendar period ends. This can be handy if you're strapped for cash, but know that it carries a fee of 1% of the payout amount, with a $5 minimum and $150 maximum.
Here are the available payout methods:
Check (USA only)
Paxum
ACH / Direct Deposit
SEPA
ePayService
WebMoney
Wire Transfer
Once you get more experienced with the site, you can try to increase your earnings. First, there's VibraToy - a tip-controlled sex toy that allows your audience to make you cum by paying more. Then, there are LiveJasmin's fan clubs, which allow you to build your fan base via exclusive content and discounts. You can charge either $4.99, $9.99, $14.99 per pay period, so the content you provide, as well how much it costs, is up to you. You earn a fixed 25% of this subscription fee. Lastly, there's LiveJasmin's referral program, which lets you earn an additional 20% of everything a member spent if they used your referral link to sign up. It doesn't even matter whether they're spending this on you or another model, so you're making bank either way.
On top of all of this, LiveJasmin serves as your media platform, allowing you to upload premium paid content, short stories and blogs that you can post to fans, a mobile feature that lets you connect with your fans via paid video calls and even an exclusive affiliate program that lets you build your own personal cam site, where you are the star. All this can greatly increase your exposure and help you retain, maintain and build your fan base.
If you want a serious leg up in this business, and don't want to settle for anything less than the best, then LiveJasmin is a great way to start.