Streamate Review
Streamate has got extraordinary models, HD+ webcams, unique categories, smart and safe billing, and let's you cam2cam while in both the semi-private and exclusively private shows. On this site, you will need to act fast when in a model's open chat room. Here, performers tend to get scooped up fast into private sessions. Or, they may boot you out of their room if you are playing the part of a passive viewer. It's not uncommon to get blocked from a room if you even fail to say 'hello'.
Streamate's Strengths
Many models that offer cam2cam don't charge extra for it
Cam2cam is available in both Private and Exclusive chats
Streamate's Weaknesses
No cam2cam when accessing site with a mobile device
Some models don't allow cam2cam activation
Performers can deny cam2cam requests without explanation
Option to start cam2cam only available once already in a private show
Streamate's Selection
The site's choice selection of models produces somewhere between 600-800 models available for private sex shows, at any given time. Streamate's models make up some of the most exceptional webcam talent found on our our homepage.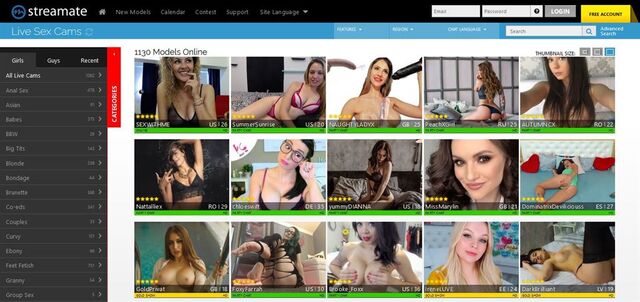 Switching between the Girls and Guys will reveal categories and attributes relevant to the specific genders. To find those models with a bit of junk from both genders, stay in the Girls section and find the Transgirl category.
When in a model's chat room, there is a panel of models offered as suggested matches to the model you are currently viewing. But, the suggestions tend to get stuck in a loop, and you can click through a few times and start to realize that you are seeing the same girls. We mostly like to return to the main gallery page and scan over all the available girls at once.
Streamate's Free Shows
This is a premium site that allows the models to only go so far as getting topless during their public chat time. Getting sexually explicit is supposed to only happen while in a group or private session.
Many models will challenge this rule in an effort to drum up some action. If you catch a room like this, enjoy it while it lasts.
And don't be surprised if you get booted out of the room. The girls on Streamate don't like apathetic viewers.
So, if you're not going to send them a nominal tip, then you should at least engage them with chat. For as long as you show interest, they will show it back.
Streamate's Paid Shows
When you make the move to start a private sex chat, you will get asked if you would like to start a Private or an Exclusive. During a Private, other customers may join to chat with the model. The Exclusive show will make your chat a true one-on-one. No other member can occupy her attention.
Gold shows start when a collective tip goal is met. This is a group show where a model sets the show's duration and the minimum buy-in for each member to attend. She then works the crowd to get enough tips to meet her set goal. Joining Gold shows is the cheapest way to get to see xxx hardcore sex acts for cheap. Contributions to the Gold shows range from $1.00 to $5.00 per show. There's no webcam-to-webcam option available during this type of performance.
Streamate does not operate with site tokens or credits. You will see actual currency prices when looking up a model's private rates. The models set their rates based on the currency of their country or origin. The pricing that you will see will be a calculation to your currency. This conversion results in a whole mix of published rates. But, on average, expect to see rates across the board that float around $3.00 a minute for a Private. And, it's usually 25% more to make the show Exclusive.
Streamate's Prices
With no tokens or credits to buy, you only get charged for the time spent in private chats for the day. Streamate asks you to register a credit card or PayPal when creating a membership account. These are the only payment methods available. New users have a daily spending limit assigned to them. To increase this limit, you will need to contact Streamate's customer support team.

These are the expected rates on the site. They are representative the average costs of shows. On Streamate, if c2c is an option, or not, and if it costs extra, or not, depends on the performer.
| | |
| --- | --- |
| Live Sex Chat | Charged Per Minute |
| Private Average | $3.00 |
| Exclusive Average | $4.00 |
| Cheapest Private | $1.00 |
| Most Expensive Private | $9.00 |
Freebies on Streamate
There are no enticing gifts offered for becoming a member. And there doesn't need to be. The site is open enough with its permission of toplessness, and its liberal authority with models pushing the line of explicitness in their public chat.
Streamate's Customer Support
Live chat, email, and phone support is available. Live chat support is open 24/7. Contacting via email is done through the site and a reply will reach your registered email address. And, if you have to call them, there's a list of international support numbers.
Streamate's Rewards Program
Designed to award active members, Streamate's rewards program consists of 10 levels. Advancement is based on what is spent on private sessions. Your first advancement happens after you have completed at least a 2 minute private show on 3 separate days. You will then move to level 1, where you will get back 1% of what you spend for the day. Completing each level's spending requirement advances you to the next, whereby level 10, you are getting back 10% of what you spend for the day credited back to your account.
So should you spend your hard earned cash on Streamate?
Don't take Streamate for granted. For a premium site, it is more generous than others. Its models will flash a bit more and get more seductive in their open chats than you will find on other sites. And, don't be too passive either. The models here are waiting for engagement, and they are known for ousting stone-faced members from their chat rooms.
So, we recommend to get in quick, tell her she's pretty, and ask her if she will accept you turning on your own camera for a c2c session. If you are nice enough about it, she may not even require that you pony up extra for it.