Stripchat Review
Stripchat is a shining star in the live porn world. Being a freemium site, it hosts plenty of astonishing cam girls posing fully naked in its public rooms where guests and members can spend much of their time enjoying thrilling live sex shows. For those who are interested in some private time with a model, Stripchat has an advanced c2c chat apparatus and a nifty search tool that enables every user to find the exact performer they'd like to chat with.
Stripchat's Strengths
A large number of extremely sexy cam models
Free nudity in public chat rooms
An advanced search tool enabling you to find the exact models you'd prefer to watch
VR live porn shows
An excellent reward program in the form of Gold membership
Stripchat's Weaknesses
Models' preview galleries on the site's main pages are static
Cam2cam demands additional payment
No live support
Stripchat's Selection
At any given time, you'll find around 1,500 active webcam models on the site (The count can sometimes reach 2,000). The large majority of them are girls. But if you are into other gender types, the site's gay and transsexual sections contain close to 100 online performers each. There is also a couples section with dozens of hetero and lesbian pairs and threesomes. All these models can also be found on our homepage.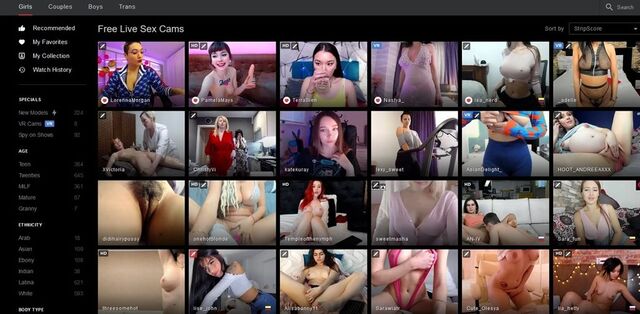 The site's search tool sorts out the performers based on special show types (e.g. Spy Shows), age, ethnicity, physical attributes and prices. There is also an All Category page which presents all of the categories on the sites arranged in alphabetical order. This page will help you pick a model for a private porn show according to a specific action type or theme.
Stripchat's Free Shows
As mentioned above, Stripchat is a freemium site with ample nudity in public chat rooms free of charge. Everyone can access these rooms and enjoy this affluence of tits, pussies and asses, but to chat with the performer, you must sign up. If you want to get her attention and do special things for you, you'll have to shed some tokens.
Stripchat's public chat rooms contain essential information that will help you become familiar with the model performing for you. Below her broadcasting window, you'll see the categories under which she appears on the site. You'll learn what she does in her live porn shows and in her exclusive 1 on 1 chats. You'll be able to access her profile and find out which languages she speaks, her age, sexual orientation, body type, hair and eye color. The profile also mentions her social links and what she does in life (e.g. a student). If you like her, you can add her to your favorite list and make her your friend.
Some of the models may choose to display their photo and video galleries in their public room. These galleries can either allow free access or demand some tokens to open.
Stripchat's Paid Shows
Starting a 1 on 1 sex show on Stripchat is fairly easy. You just need to hit the Start Private button beneath the performer's broadcasting window in her public room. A small window with chat rates will immediately pop up. You'll need to choose between a Private Chat and a Cam2Cam chat. The latter will allow you to open your cam and let the model see you as well. It also includes bi-directional audio so both of you can talk and hear one another. Lastly, a cam2cam chat is closed to other users who may want peep into it.
Speaking of peeping, if you are into voyeurism, the site offers spy shows in which you can get a glimpse at the performance the model is giving other users. The site's search tool includes a Spy on Show tab. By hitting it, you'll reach a section with around 100 shows available for peeping.
Finally, Stripchat is the only adult cam site on which you can take part in VR shows. At any given time you'll find around 10 performers on the site populating VR chat rooms. Be advised, to enjoy a 360° live sex chat, you'll need to download a special software and purchase the necessary hardware, which may turn out to be a little expensive.
As to chat rates, a private one on one chat on Stripchat costs $3.90 a minute on average. The lowest rate a model will charge you on the site is $0.90 per minute. For the upgraded Cam2Cam chat, you'll be required to add around 30% to what you usually pay for a regular Private Chat. Having said that, you may stumble upon models who will not charge you extra for the privilege of activating your cam.
Spy Show rates vary greatly from one model to anther. Some will charge you as low as $0.80 a minute. Others may demand more than $3.00 a minute. Prices are presented to you on each window gallery in the Spy Shows section and right before you enter a show.
Stripchat's Prices
Stripchat puts at your disposal various token packages available for purchase as shown below: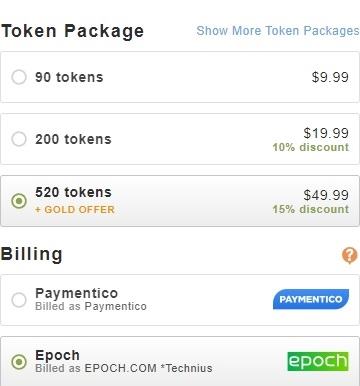 The following table presents chat prices per minute based on a balance between models' different rates and the token packages on the site. It's easy to see that the bigger the package that's purchased, the more money you can save in the long run.
| | | | | | |
| --- | --- | --- | --- | --- | --- |
| Tokens/Min | 90 | 200 | 520 | 1080 | 2340 |
| 8 | $0.89 | $0.80 | $0.77 | $0.74 | $0.68 |
| 16 | $1.78 | $1.60 | $1.54 | $1.48 | $1.37 |
| 24 | $2.66 | $2.40 | $2.31 | $2.22 | $2.05 |
| 32 | $3.55 | $3.20 | $3.08 | $2.96 | $2.73 |
| 60 | $6.66 | $6.00 | $5.77 | $5.56 | $5.13 |
| 90 | $9.99 | $9.00 | $8.65 | $8.33 | $7.69 |
Freebies on Stripchat
Stripchat doesn't offer any freebies. The best you can do to lower chat costs is to opt for bigger token packages which reduces the price you pay for a single token.
Stripchat's Customer Support
Stripchat doesn't have a live chat support. If you encounter any difficulty or want to ask a question, you can send the site's staff an email message using an internal email system. You may need to wait up to 24-48 hours until you get a reply.
The site has a highly effective FAQ section and an in-depth Wiki page elaborating on all its characteristics and features.
Stripchat's VIP Program
Users can upgrade their membership status to Gold for a monthly fee of $19.99. Gold membership comes with a variety of benefits which consist of sending free unlimited private messages to models in public chat rooms, discounts on token purchases, chatting and tipping invisibly, using fun emojis and immunity from being banned by other users. Users who buy an enlarged tokens package of 520 tokens or more can become Gold members for 1 month for free.
A Gold member can be dubbed a Knight by a model. Knighthood entails the ability to mute other users who are being rude to the model. In other words, a Knight enjoys the privilege of being a moderator in his model's public chat room.
Lastly, Stripchat allows its users to express their loyalty to their favorite models by joining their fan club. You can do that by pressing on the Join Fan Club tab on the top of the model's broadcasting window. You'll have to pay a monthly fee of $9.99, $19.99, or $49.99 - depending on how much of your loyalty you want to give her. Regardless of the sum you'll choose to pay, being a model's fan gives you a special status in her room (Your user name will appear with a special badge), unlimited private messaging, access to her premium media content and the right to spy on her private sex chats for free.
So, Should You Spend Your Hard Earned Cash Money on Stripchat?
Stripchat is one of the best sites to engage in cam2cam sex. Its large number of lovely cam girls, many of whom broadcast in HD quality, the free nudity in public rooms that will turn you into a horny goat, VR chat rooms, the highly effective search tools enabling you to find the right performer for you, and an easy to operate c2c apparatus make the site worth your porn time. What is more, the Gold membership offers you awesome perks at a relatively cheap price, giving you no reason not to become one. Taking all of that into account, we strongly recommend giving the Stripchat a try.