CamSoda Review
CamSoda is a freemium chat site that lets you in on the action before you even need to spend a dime. It's slick, lightweight and works on most systems, browsers and devices, including phones. In fact, while CamSoda is mainly tip-based, it's still one of the best c2c cam sites around, especially for mobile users.
CamSoda's Strengths
Cam2cam is included in the private chat rate
No extra cost to c2c on mobile and tablets
Free show recordings in some rooms
CamSoda's Weaknesses
HD isn't as sharp as some other sites
Not all models offer cam2cam
CamSoda's Selection
CamSoda has a good selection of cam models, but it pales in comparison to other webcam sites like Chaturbate. On CamSoda, you'll see around 500 performers online, a selection which is comprised of women, men and tranny talents. If you want a bigger selection of cam rooms, which is understandable, then check out our homepage.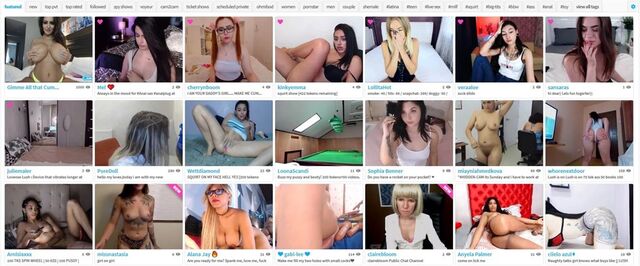 CamSoda heavily features nubile young women and tip-controlled sex toys. There aren't a lot of fetish models here, even though there are categories for pretty much every kink out there. The categorization system and search engine is also somewhat unreliable due to the site's unregulated tagging system, so try to search for things manually when you can.
If you want to switch between female, male, shemale and couples, find the cog icon on the right of the tags. You can select whichever option suits your tastes, or several of them if you feel like mixing it up.
CamSoda's Free Shows
As CamSoda is a freemium cam site, most of your time will be spent in the open (free) chat. Here, you'll be able to see the model perform, flirt with her and ask her for her preferences as well as what she's willing to perform. If you're not yet registered, you won't be able to type in chat, so do that first. CamSoda's registration process takes less than a minute and is 100% free.
The chat rooms also serves as the model's private pages, so you're able to scroll down to see some details about the performer, such as her location, the languages she speaks and so on.
Usually a few others will already be conversing in chat, flirting and tipping the model to activate her sex toy, asking her to perform something or just because she's putting up a good show. If you enter a popular cam girl's room, expect about a hundred other people to also be in chat, so know that you won't be standing out much unless you tip or take her private.
There's an option for you to turn on Stealth Mode if you don't want others to see what you write or how much you tip. In this mode only the model will see your messages and tips, so it's a bit like a midway between free chat and private. You can't start a c2c session here, though, so if you want to take things to the next step, take the model private.
CamSoda's Paid Shows
To take a model private, all you need to do is press the pink Go Private button under her stream. A window will pop up where you can see the model's rating, if the model allows cam2cam, if private show recordings are enabled and how much will it cost you (in tokens) per minute to enjoy some intimacy with her.
Private shows on CamSoda cost 6, 12, 18, 24, 30, 60, or 90 tokens a minute, though the girls can actually put up discounts as well. If c2c is enabled, then it's also free and includes two-way audio. If private show recording is enabled, you'll be able to watch your session with the model at your leisure. It will be uploaded to My Media and will stay there indefinitely.
CamSoda's Prices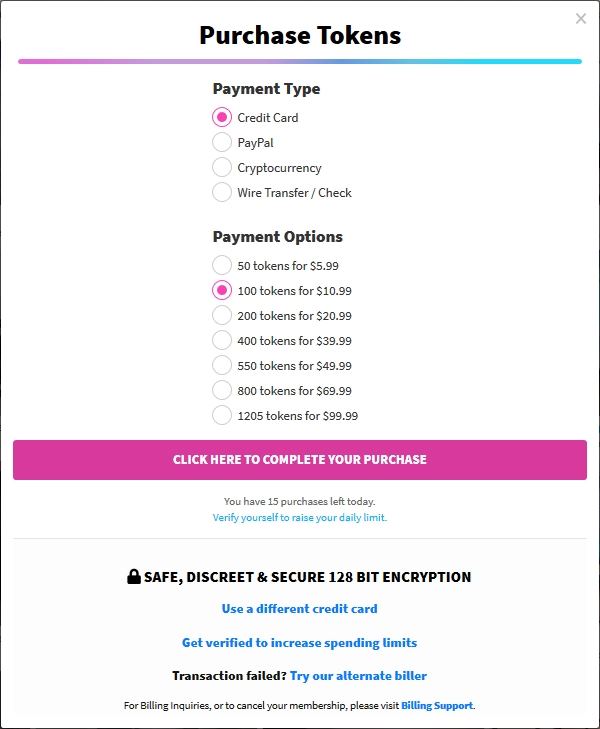 In the following table you can find the price per minute of the different rooms, depending on the tokens package you selected. As you can see, the larger packages give significantly more tokens, saving you a lot of money in the long run.
| | | | | | | | |
| --- | --- | --- | --- | --- | --- | --- | --- |
| Tokens/min | 50 tokens | 100 tokens | 200 tokens | 400 tokens | 550 tokens | 800 tokens | 1205 tokens |
| 6 | $0.72 | $0.66 | $0.63 | $0.60 | $0.55 | $0.52 | $0.50 |
| 12 | $1.44 | $1.32 | $1.26 | $1.20 | $1.09 | $1.05 | $1.00 |
| 18 | $2.16 | $1.98 | $1.89 | $1.80 | $1.64 | $1.57 | $1.49 |
| 24 | $2.88 | $2.64 | $2.52 | $2.40 | $2.18 | $2.10 | $1.99 |
| 30 | $3.59 | $3.30 | $3.15 | $3.00 | $2.73 | $2.62 | $2.49 |
| 60 | $7.19 | $6.59 | $6.30 | $6.00 | $5.45 | $5.25 | $4.98 |
| 90 | $10.78 | $9.98 | $9.45 | $9.00 | $8.18 | $7.87 | $7.47 |
Freebies on CamSoda
CamSoda doesn't really give you any freebies. Your best option is to buy the more expensive tokens package to get a bigger bonus.
After you make your first purchase, though, you can claim 100 free tokes (valued at $10.99) once, by completing a form to raise your spending limits. A link to it can be found by pressing the orange Add Tokens button, which will take you to a pop-up window seen in the picture above.
CamSoda's Customer Support
CamSoda has a helpful FAQ and support page, with specific details that are aimed to help you resolve any technical or billing problem. There's also live chat dedicated to resolving billing issues, but for anything else, email is your only option. It's the only way you have for contacting the site's customer support, who may take a day or two to reply.
CamSoda's Paid VIP Program
CamSoda has a premium membership program that costs $19.95 a month, but basically pays for itself. You get:
An ad-free interface - Not much considering that CamSoda uses no obtrusive ads.
The ability to change the tip volume - Pretty essential if you find that bubbling sound annoying or just want to hear the model better, especially if she's popular and gets many tips.
Private messaging - A great feature to have if you want to keep in contact with your favorite babes.
200 free credits - You're actually getting more tokens than you should for the money that you spend on this membership. Do note that you only get this benefit on the first month of membership, so at least try it out for one month, as it's practically free. After that, you can either keep it or not, up to you.
So should you spend your hard earned cash on CamSoda?
With how convenient and low-priced CamSoda is, there's no real reason not to give it a go, especially if you have your eye on a particular babe and want her undivided attention. If you like seeing the models naked beforehand, and appreciate that the cam2cam feature is usually included in the private chat rate, there aren't many better options out there for an x-rated one-on-one.