How to Become a Stripchat Cam Model
Stripchat is a freemium cam site that gives high revenue share to its models, as well as a serious boost to its new models. It maintains great premium features to help you create a loyal fan base, and even has an exclusive virtual reality chat option, but it still remains accessible to those who are only looking to tip. If you're looking for a slick platform that gives you many different opportunities to earn money, then Stripchat may be the right choice for you. If you're looking to perform in VR sex cam shows, then Stripchat is your only choice.
But first, you'll need to register yourself as a Stripchat webcam model. Doing so is rather simple, but to save you some time figuring out the process for yourself, here are the 4 simple steps you'll need to take to start making money on Stripchat. Click the button below to get started.
Step 1: Start the signup process
Enter your desired username and a valid email address.

You'll then be asked to verify your email. To do that, click on the link in the email that Stripchat sends you (you should receive it within seconds). You'll also receive a temporary password.
Step 2: Complete your profile details
Fill in the required information about yourself. This information will be shown on your profile page.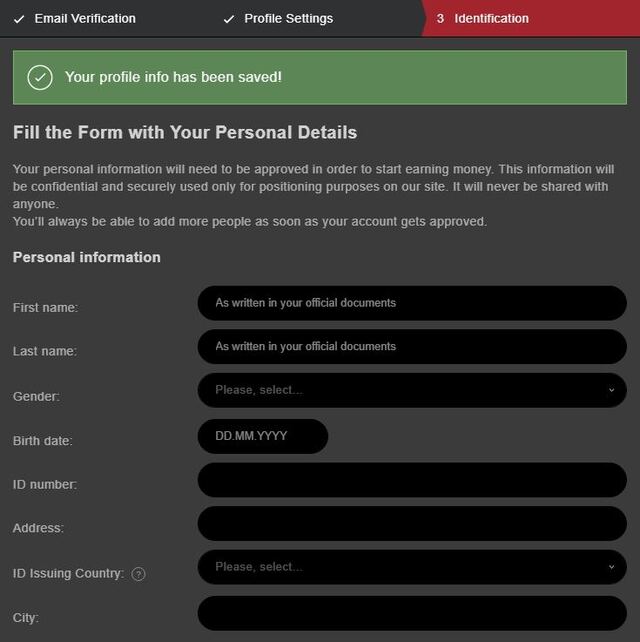 Then, upload a profile photo and a cover image and decide on the price-per-minute (in Stripchat tokens, which are valued at around $0.10 per token) of your shows, according to show type.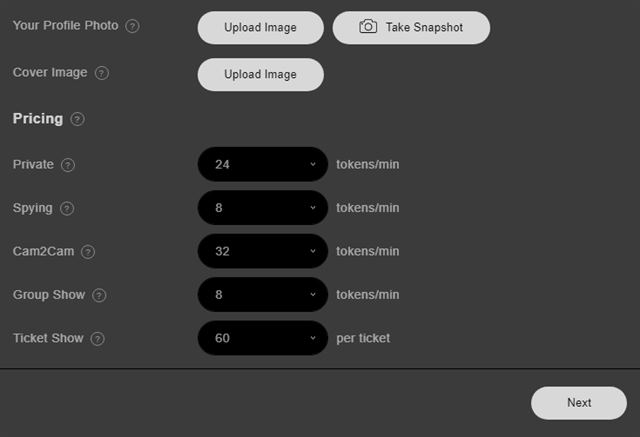 Here are the guidelines for the photos:
Your profile photo is viewable by all users. It needs to be at least 200x200 pixels large and in either jpg, png, or gif format.
Your cover image is shown on your profile page when you're offline and when users search for you. Without it, fans won't be able to find your profile page (It needs to be at least 400x400 pixels large and in either jpg, png, or gif format.
Here's a short explanation of the different show types:
Private: The usual one-on-one with a Stripchat member.
Spying: When another member wants to watch your ongoing private show. This member won't be able to participate in any way.
Cam2Cam: When the member wants you to see him and activate his webcam, this is the show type he'll pick. Stripchat doesn't charge extra for c2c, and instead lets you decide how much a user will pay for the luxury, if at all.
Group Show: Many members can join at once, chat and watch you perform.
Ticket Show: A different type of group chat. Here, instead of paying per minute, members pay once for a "ticket" to the entire show, the length of which is up to you (as in a regular group chat).
Once you're done, click Next.
Step 3: Create your model account
As Stripchat also states, your personal information will need to be approved in order for you to start earning money. It's Stripchat's way to ensure that you're a consenting adult. Note that this information is confidential and securely used only for the aforementioned purpose and for positioning purposes on the site. It will never be shared with anyone.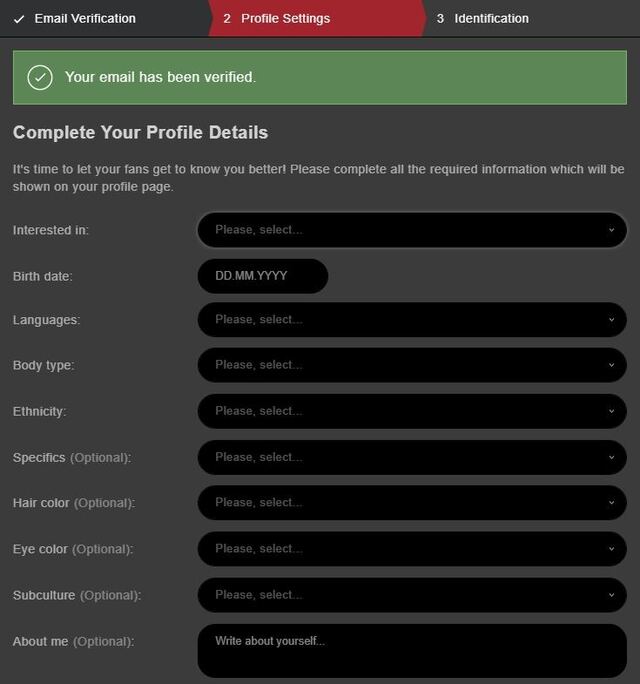 Now upload a photo of your ID (or passport) and a picture of you holding the documentation along with a handwritten note with your username and the current date. These photos need to be at least 500x500 pixels large and in either jpg, png, or gif format.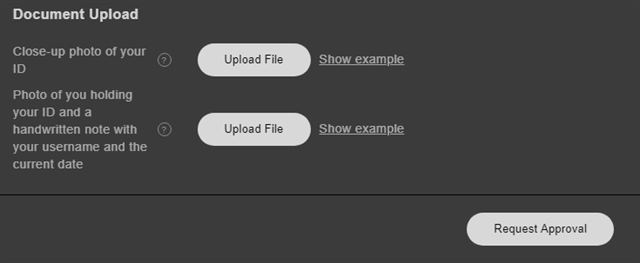 Once you're done, click Request Approval.
Step 4: Sign the model agreement
Read Stripchat's Direct Model Appearance Agreement and Release, and, if you agree to the terms, check the box and click Sign Agreement.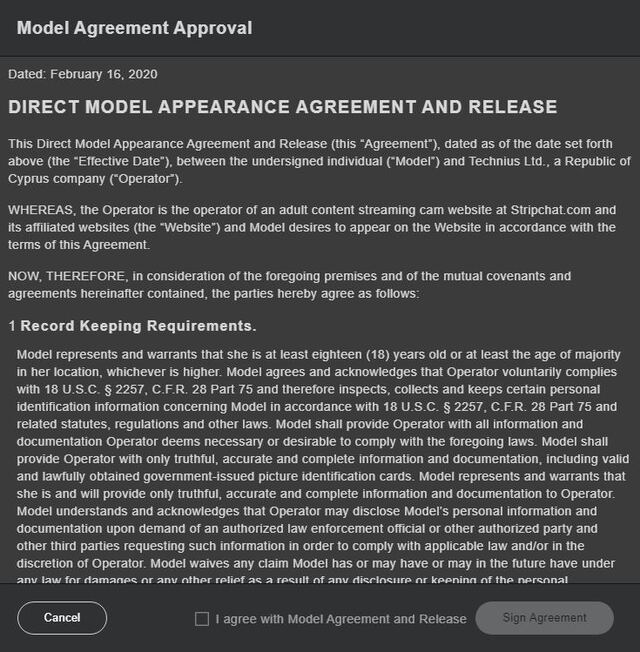 Your documents will then be reviewed and, once they're verified, you will be approved to perform on the site. This process can take up to 48 hours.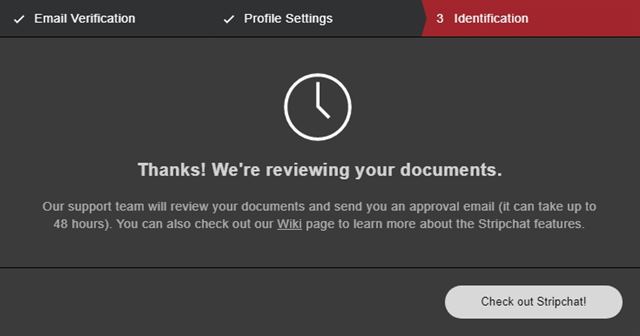 That's it, you're done.
Overview and Tips
Stripchat is a great site to work for, and not only for the high revenue share that it offers its models. But lets talk money first - The site offers a baseline commission of 5 cents per token, which is a 50% commission on all revenue you make for the site. This is the case even though users purchase tokens in packages with set prices (the larger the token package, the lower the price per token). You are always paid the same amount ($0.05) per token, so the percentage paid to you depends on the package purchased by the user.
Here's a breakdown of your commission based on the token package:
| | | | | |
| --- | --- | --- | --- | --- |
| Token Package | Price | Cost Per Token | Model Payout Per Token | Percentage |
| 200 | $19.99 | 0.10 | 0.05 | 50% |
| 520 | $49.99 | 0.0961 | 0.05 | 52% |
| 1085 | $99.99 | 0.0926 | 0.05 | 55% |
| 2255 | $199.99 | 0.0887 | 0.05 | 56% |
| 5770 | $499.99 | 0.0867 | 0.05 | 58% |
| 11720 | $999.99 | 0.0853 | 0.05 | 59% |
Get the point? The above table basically shows that you're always paid the same, even if the user purchased his (or hers) tokens for cheap. Overall, this is higher than what's offered on most other cam sites, and is probably a great incentive for anyone looking to make bank. But, as I've mentioned, the real draw of the site are its great benefits. As with most other adult webcam sites, you'll be free to silence or even ban people from your chat room as you please.
Here's a breakdown of the benefits offered by Stripchat:
Regional blocking: This allows you to block people from your place of residence from viewing your cam show, so you can stay discreet.
Chargeback protection: A "Chargeback" is where someone disputes a credit card claim and the charge gets reversed. Some cam sites may subtract the chargeback from your pay. Stripchat does not, opting to take the loss of revenue instead of laying that burden on you.
DMCA protection: Worried that someone might record your show without your consent? Stripchat offers help with legal deterrence.
Content and price control: You may sell movies, images or recorded shows of yourself, and you're the one who sets their price. Stripchat handles all the transactions and delivery of the content.
Cam Splitting: Cam-splitting enables models to perform on multiple sex cam sites at the same time. Cam splitting requires special software, and is generally used by performers doing private chats. The performer is able to remain in public on multiple sites until someone books a private on one of those platforms. Doing this will garner you increased exposure across multiple chat sites and generally results in more private sessions, and thus more revenue. This is allowed by Stripchat.
Selling photos and videos: Stripchat performers can make money from selling their pictures and videos directly on the site. The galleries are displayed on your profile page, to the right of your bio.
Fan clubs: Stripchat models can also make money from fan club subscriptions. Currently, fan clubs are only available for performers that have at least 1,000 subscribers. There are three subscription tiers and each one offers a special badge for the members, along with several benefits that might interest your loyal subjects. Here are the levels:

Soldier Sponsorship for $9.99/month
Lord Sponsorship for $19.99/month
Prince Sponsorship for $49.99/month

Stripcash: This is the official affiliate program for Stripchat. You can register for Stripcash and make money promoting the site. Stripcash offers a revshare (revenue share) for new customers, performers and webmasters that you manage to send to Stripchat.
3-hourly contest: Every 3 hours, Stripchat rewards the top 5 earning models with StripPoints (more on that later) and cash prizes. Do note that only online tips count for the contest.
Account deletion: Stripchat allows its models to delete their account by simply entering their profile, going to "Settings and Privacy" and then clicking "Delete my Account". This way, you know that you'll always be able to leave without leaving a trace if you change your mind about the site.
Weekly payout: You get paid once a week, on Friday. The minimum payout is based on which payout method you chose. All payout methods are free of charge (not the case with every cam site) and are executed automatically on Tuesdays, except for Wire Transfer payments which are issued every other Tuesday. If you do not reach the minimum requirement for your chosen payout method, your earnings will roll over to the next payout date. You can change your payment setting at any time by clicking on your "Tokens" icon in the upper right corner and selecting "Payments Settings" from the drop-down menu.
Here are the available payout methods and their minimum payout requirement:
| | |
| --- | --- |
| Payout Method | Minimum Amount |
| Paxum | $50.00 |
| COSMOpayment | $50.00 |
| ePayService | $50.00 |
| ACH/Direct | $100.00 |
| EUR Wire Transfers (SEPA) | $100.00 |
| Checks | $100.00 |
| International Wire Transfers | $200.00 |
| Cryptocurrencies | $200.00 |
To sum it up, Stripchat takes great care of its talent. You're offered very high commissions and fantastic benefits, and you're always in charge of your account and information. But, above all, Stripchat is fair, and knows better than to nickel-and-dime you.