Guide to Cam 2 Cam on Chaturbate
To cam2cam on Chaturbate, you are going to need to set your own chat room for broadcasting. This guide will teach you how to do so securely, so that only the cam girl you want to watch you can see you.
If you haven't already, you will first need to sign up and buy yourself some tokens.
Step 1: Click to broadcast yourself.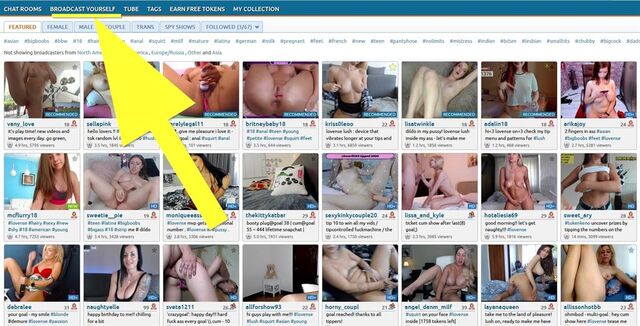 Step 2: Click to agree to Chaturbate's broadcasting policy.

Step 3: Your chat room has technically been created and you can broadcast, but we highly recommend updating your privacy settings first. To do so, click on Settings & Privacy. If you don't mind mind being an exhibitionist for anyone on the site to watch, feel free to skip to step 6.

Step 4: Scroll down to the Broadcaster Settings and change it to not display your cam on the homepage, and to only display your cam to your chosen genders. Choose a password to give the models you want to watch you, and select any countries/regions in particular which you might not want to be able to see you. When you're done, scroll to the bottom and click Update Settings.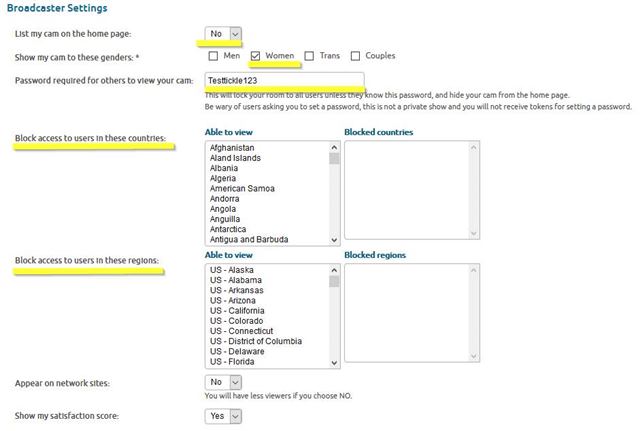 Step 5: Scroll back up to the top of the page, adjust your Adobe Flash Player Settings and test out your webcam.
Step 6: Find a webcam model and tip her the amount she requests for cam2cam. You will need to send her your password in a private message or in the tip note.
Take Note
To c2c on Chaturbate, you will need to keep your personal chat room open in one tab, while the webcam model's chat room is open in another. If you close your chat room, the webcam model will be kicked out of your room.
At present, c2c on Chaturbate is not available on mobile devices.