How to Become a Chaturbate Cam Model
Chaturbate is one of the most popular cam sites in the world, and, as such, is among the best platforms to make a name for yourself on. The registration process is naturally very streamlined and simple, but that's not the hard part. Chaturbate has around 4,000 cam models streaming on it live at any given moment, so distinguishing yourself from the crowd is rather difficult.
Below are the steps you need to take in order to set yourself up as a Chaturbate cam girl or boy, as well as a few tips that will help you stand out and make money streaming on Chaturbate. Combined with the in-site instruction, you'll be done in minutes and able to start creating revenue.
Step 1: Click the BROADCAST YOURSELF button
It's located at the top left portion of the Chaturbate homepage.

Step 2: Click I AGREE to affirm that you are of legal age
The below pop-up affirmation window will appear. Read it and agree to continue.

Step 3: Allow camera and microphone access to the site and click on submit age verification
This will be found at the left side of the page. It's where you'll be able to see your stream in real time.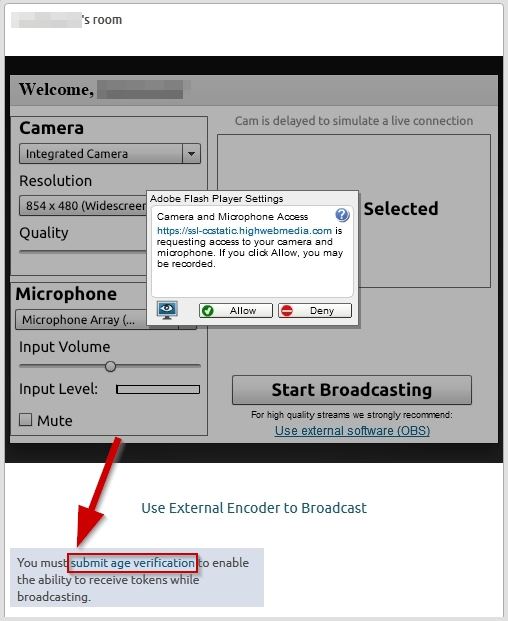 You'll then be taken here:

Step 4: Agree to the Performer Agreement
Enter your full name, email and birthday.

Step 5: Upload identification to verify your identity
You'll need to upload a high quality scan of your ID, as well as a picture of your ID next to your face. You can just take a selfie while holding up your ID near your face. Click Upload Files when you're done selecting them.

Step 6: Update Apps & Bots, Bio and Settings & Privacy to your liking
Can be found at the bottom of your broadcasting page. More details on this can be found in the section below.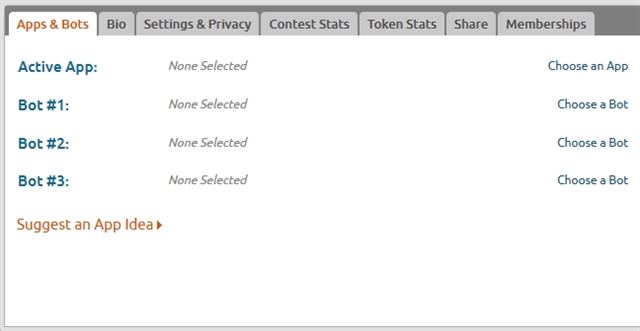 Congratulations! You are now officially a Chaturbate webcam model.
Overview and Tips
Chaturbate is a fantastic freemium cam site, but it's tip-based nature requires some adjusting. Don't bank on getting invited to private chats very often. Instead, try to be as sensual and enticing as you can in the open chat. Build up your persona and fan base, keep the free chat engaging and you'll make a name for yourself in no time.
Also, remember that Chaturbate doesn't have c2c, and setting up a cam2cam show on Chaturbate requires a bit of work. Familiarize yourself with the process so you can offer it to those interested in it. You can charge them extra on top of it being a private chat, so it's a good way to make money and create returning customers and start making some serious money.
On that note, know that you get 5 US cents per token received in tips, meaning that you make around 62% commission. Be aware that there is a minimum amount required to get a payout. The minimum amount you need to earn to receive payment depends on the payment method you choose.
Check by mail has a minimum payment of $50.00
Paxum has a minimum payment of $100.00
Check by Fedex has a minimum payment of $200.00
That is the amount that you need to earn to see any money at all, because, otherwise, you don't get paid. Don't worry, though; You won't be working for free. If you do not earn the minimum amount required within a pay period, your balance will roll over into the next pay period until the minimum is achieved. Payments are sent twice each month. You will receive them within 7 days of the 15th and the last day of the month.
Once you become a successful performer and start making some real money, you may choose a higher minimum payment in order to receive larger payouts (meaning you make more commission). Minimum payments can be changed at any time by contacting Chaturbate's support.
Finally, pay close attention to the sixth step listed above. Apps and bots can increase member engagement by increasing interactivity (such as with tip-controlled sex toys, if you have one) or create fun games for your audience to play (paid for with tips). Updating your bio can help your fans get to know you better and promotes attachment. Settings and privacy can help you stay anonymous in your home country by banning people who live there, and help you better regulate who sees you and which demographic will be most aware of you when you're online. Use these tools carefully, and you might just make this into a lucrative career.