How to Become a Streamate Cam Model
Streamate is a premium cam site that allows nudity in the free chat so that models can entice members to spend money on them. It's known for giving its models great work benefits and a simple and convenient platform to perform on. If you're looking for a straightforward approach to camming and good benefits, than Streamate may be the right choice for you.
But first, you'll need to register yourself as a Streamate webcam model. Doing so is rather simple, but to save you some time figuring out the process for yourself, here are the 9 simple steps you'll need to take to start making money on Streamate. Click the button below to get started.
Step 1: Start the signup process
The above button will take you directly to Streamate' model registration page. Click the green sign up button to proceed.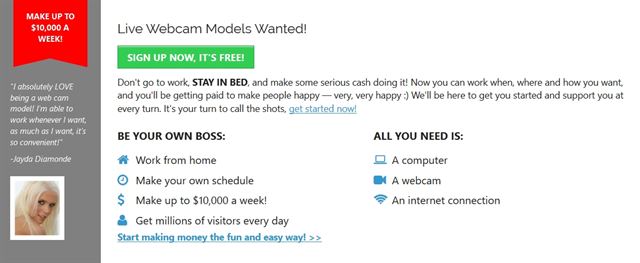 You'll be redirected to Streamate's login page, streamatemodels.com, where you can learn more about the basics of becoming a Streamate webcam model and read some FAQ that may help you understand how all this works.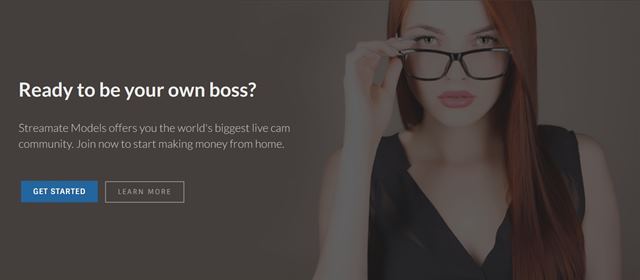 The FAQ can be found at the bottom of the page. Once you're done, click the blue GET STARTED button.
Step 2: Enter your email and check the boxes
You'll need to enter a valid email address and agree to Streamate's code of conduct, as well as confirm that you are at least 18 years of age. After you do so, click the blue CREATE MY ACCOUNT button to proceed.

You'll get a confirmation email from msupport@streamatemodels.com with a link that you'll need to click. This will open up a web page with the next stage of your signup process.
Step 3: Enter your personal info and choose your stage name and password
Here is where you enter you basic info and choose a display name and password (must be between 6 -30 characters, and contain a mix of upper and lower case letters and numbers).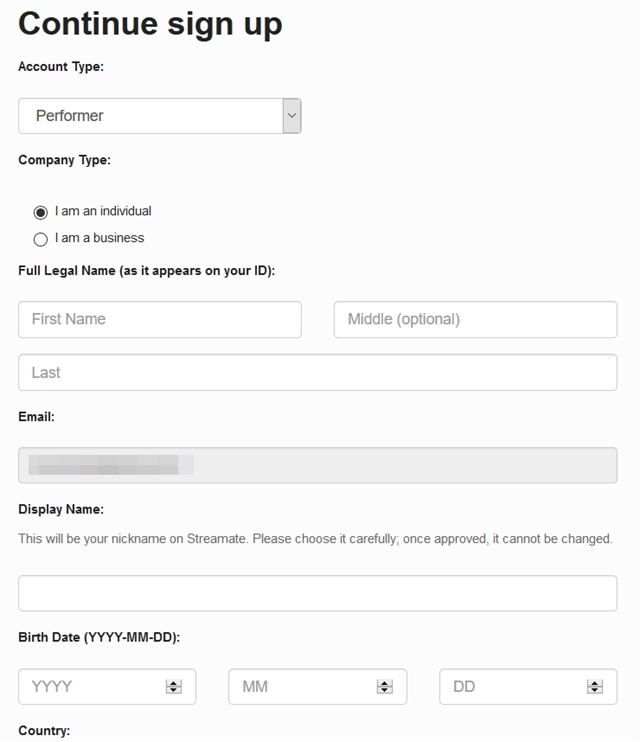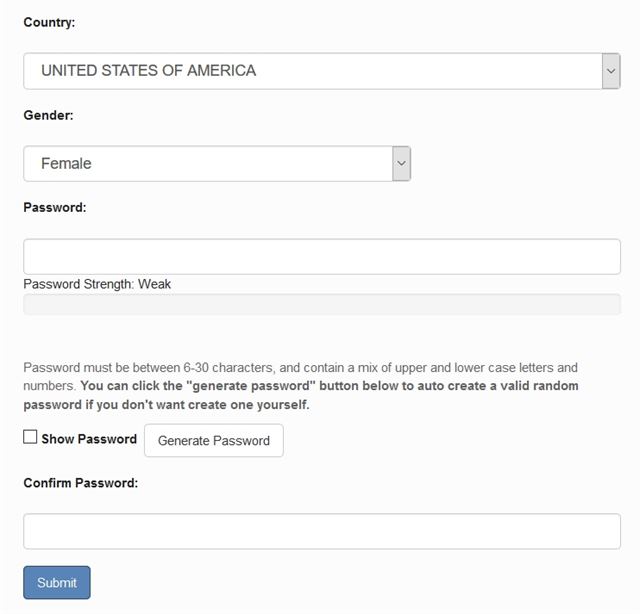 Make sure the details you enter are correct (they have to match the details that appear on your ID), and when you're done press Submit to continue. You'll get a message saying that "your account has been successfully created," and asking you to "check your email for the next step in the signup process." You don't have to do that, as you'll already have the option to log in above that message.
Just an FYI, this is how the log in section looks like on the main streamatemodels.com page:

Log in using your email address and password. Once you're logged in, you'll be redirected to your dashboard so you can get started on the list of requirements for account approval.
Step 4: E-Signature/Agreement
Now we go by order, from top to bottom. Next up is signing the agreement. Click it to continue.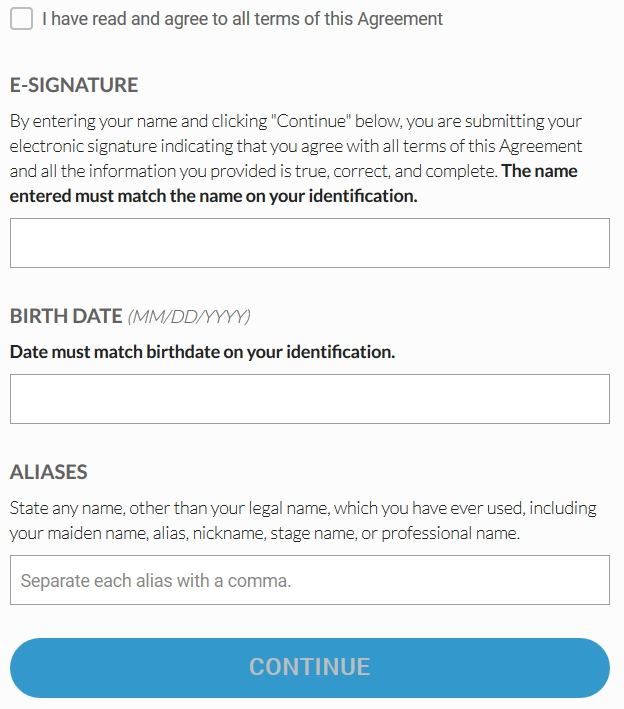 Read the Streamate agreement and check the box below it if you agree to it. You'll then need to enter your name and birth date (again, as written in your ID). Once you've done so, move on to the next step.
Step 5: Photo ID
You'll need to upload the following documentation:
A scanned copy or photo of a driver's license, passport (picture page), or other official photo identification as proof of age.
A picture of the performer holding the ID next to their face.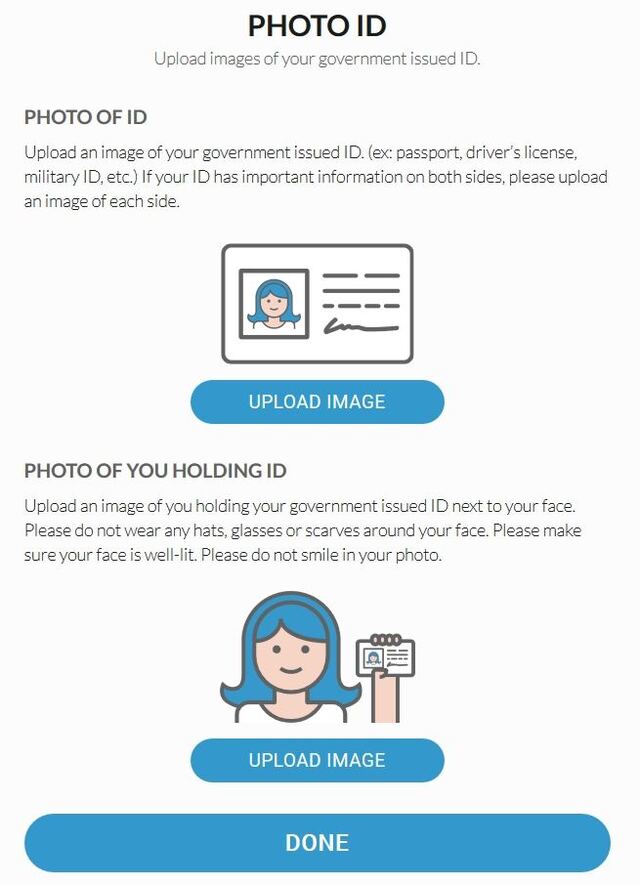 Make sure to follow the instructions (as seen in the above image). After doing so, click DONE.
Step 6: Performer Profile
This is the stage in which you enter your appearance, sexual preferences, etc.
Start by filling out your bio.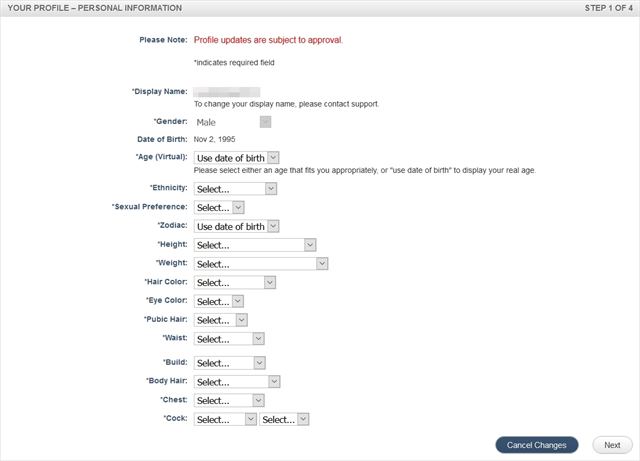 Now for your sexual preferences and kinks. Choose up to a maximum of five (you can choose none).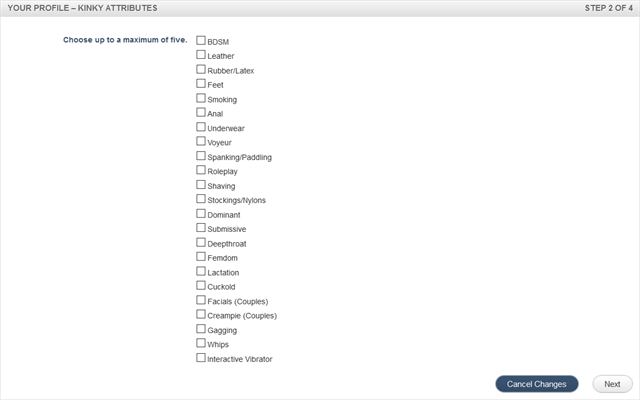 Now check the categories that apply to you.

Lastly, you'll be asked to write about yourself and what your shows will be like, among other things. Do note that there's a 50 character minimum for each section here.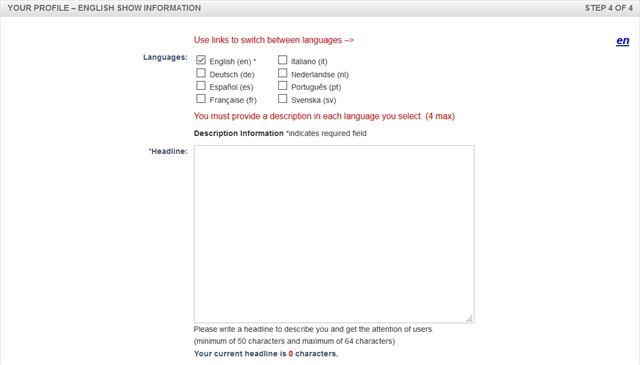 Once you're done, click Finish.
Step 7: Bio Picture
Here is where you choose the image that is displayed as your public profile.

You'll be able to adjust and crop the picture after you upload it. Make sure to stay within Streamate's parameters. When you're done, click Done.
Step 8: Registered Account Owner
The registered account owner can be an individual (you) or a company, and must also be the payee, and taxable entity (if applicable). In layman's terms, this is where you fill in your billing address.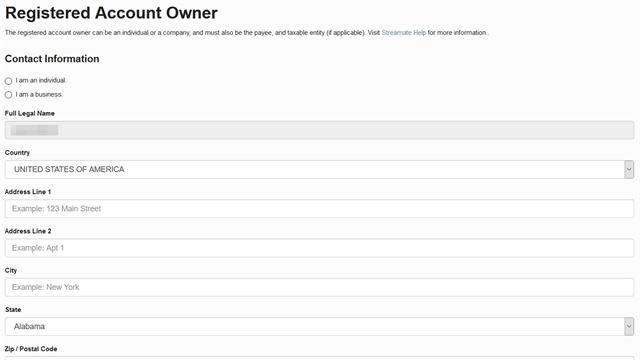 You'll need to upload a proof of address, so have it nearby. Once you're done, click Submit Updates.
Step 9: Payment Method
Finally, you'll need to enter the method in which you prefer to be paid.
The options are as follows: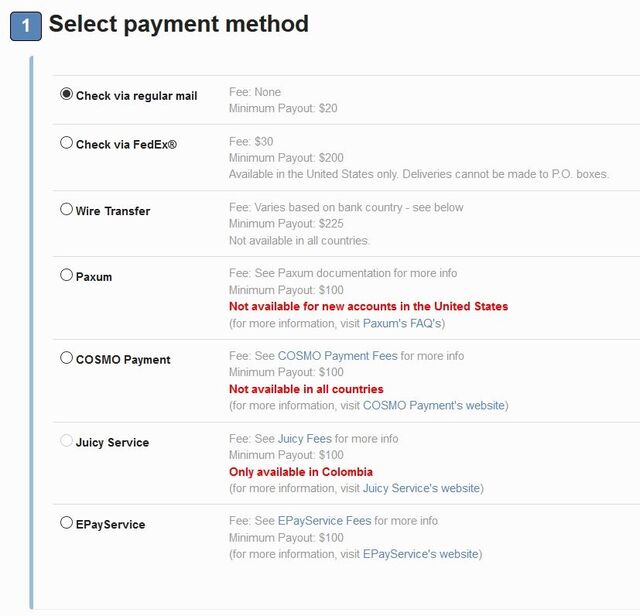 This is also where you can change your billing info and minimum payout.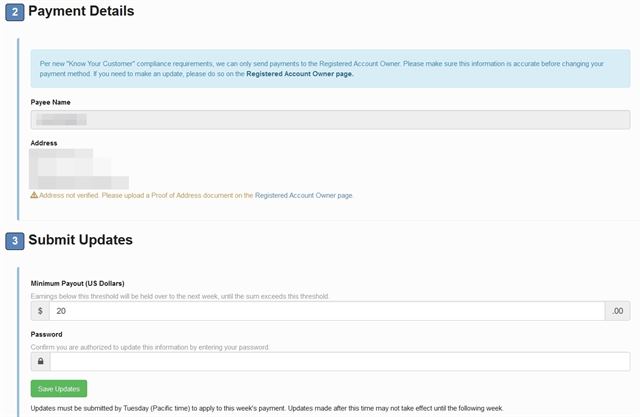 You can also choose to put your payments on hold at the bottom (for up to three weeks).

Once you're done, click Save Updates.
Now, once your details have been confirmed and approved, you'll become an official Streamate cam model!
Overview and Tips
Streamate offers a fantastic platform to perform on, as well as lots of aid when it comes to registering or being a better webcam performer. If you have any questions regarding the signup process or being a Streamate model, you can email Streamate Model Support at any time at smsupport@streamatemodels.com. A representative will respond within 24 hours.
Streamate also offers a large amount of benefits:
Regional blocking: This allows you to stay discreet in your place of residence and block your family and friends from seeing you perform.
Chargeback protection: When a customer disputes a credit card claim and the charge gets reversed, some sites might deduct any revenue you may have earned from the customer from your payout. Streamate does not.
Content and price control: You may sell videos, images or recorded shows of yourself, and you're the one who sets their price. Streamate handles all the transactions and delivery of the content, at no cost to you. Streamate models earn 50% of all revenue generated from video sales.
Cam Splitting: If you wish to perform on multiple sites at the same time to increase your revenue and exposure, then Streamate, unlike some webcam sites, allows you to do so. It requires the use of special software, but if you're ambitious about it, this will be right up your alley.
Referral Program: Once you've registered for Streamate, you'll be assigned a special link that you can share with new members. This link redirects you to cammodels.com, which is another website that displays the same models as on Streamate. If new members visit the site from your page on Cammodels and register a new account, you'll receive a 25% share of the revenue from all their purchases. It's a great way to create a residual income and generate money even when you're offline.
Affiliate program: Streamate offers an affiliate program and a site builder. By signing up for the affiliate program, you're able to earn commissions by referring new customers to Streamate. The site builder allows you to build your own rebranded version of Streamate and share in the site's revenue.
Optional daily pay: If you prefer to have the option to get paid out more frequently, for instance if you don't cam primarily on Streamate and don't want to be concerned about minimum payouts and payment schedules, then Streamate offers you just that through, Boleyn Models; A very popular camming studio that offers daily pay for Streamate models. Boleyn Models also provides consultation and support for beginner models.
Weekly payout: You get paid once a week. The minimum payout is $20. If $20 hasn't been made, the earnings will roll over to the next week. Here are the available payout methods:
| | | | |
| --- | --- | --- | --- |
| Payment Method | Minimum Payout | Fee | Caveats |
| Check via regular mail | $20 | — | — |
| Check via FedEx | $200 | $30 | Available in the United States only. Deliveries cannot be made to P.O. boxes |
| Wire Transfer | $225 | Varies based on bank | Not available in all countries |
| Paxum | $100 | Varies, visit paxum.com for info | Not available in the US |
| COSMO Payment | $100 | Varies, visit cosmopayment.com for info | Not available in all countries |
| Juicy Service | $100 | Varies, visit juicyservice.com for info | Only available in Colombia |
| EPayService | $100 | Varies, visit epayservices.com for info | — |
A Streamate model earns 35% of the revenue for live camming. This is, of course, in addition to the additional revenue you can make for referrals and incentivizing new members to join.
All in all, if you don't mind working topless, and you want good benefits and high payouts, then Streamate is an excellent platform for you to put a show on.