Watch VR Sex Cams Exclusively on Stripchat
When virtual reality headsets first came out, it was obvious that one of the main uses people will have for them will be to watch virtual reality porn. Stripchat has pioneered a feature that takes that to the next logical step: Live VR porn. Its exclusive VR cams are a sight to behold, and are just another reason to visit this top-rated adult chat site.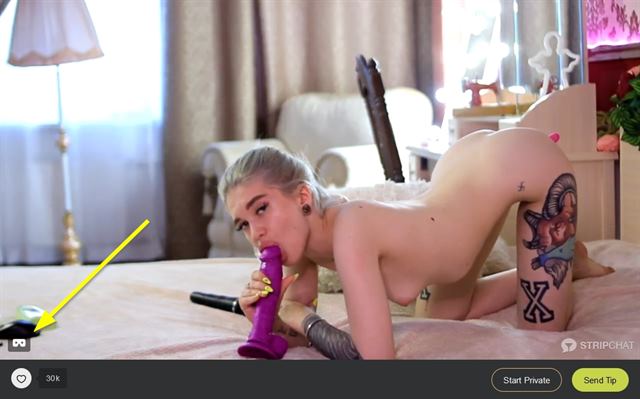 I won't mince words: If you have a VR headset and you enjoy watching webcam porn, then you should really give this a try. This is how to do it:
First, download and install GizmoVR for your device. You'll need this software to watch the VR cam show on your headset. You'll also need to be logged in on Stripchat and have enough tokens in your account for the show. Keep in mind that while VR cam girls on Stripchat sometimes charge less than a dollar a minute, most VR girls on the site charge around $3.20 per minute for the pleasure.
Next, type "stripchat.com" in the GizmoVR address field. VR models will be marked with a VR label. You'll usually see a selection of around 15 cam girls online who are marked as such. If you're using Windows or Daydream/Cardboard interface you can also click on the Watch in VR link in the model's room and be navigated directly to the VR experience inside GizmoVR.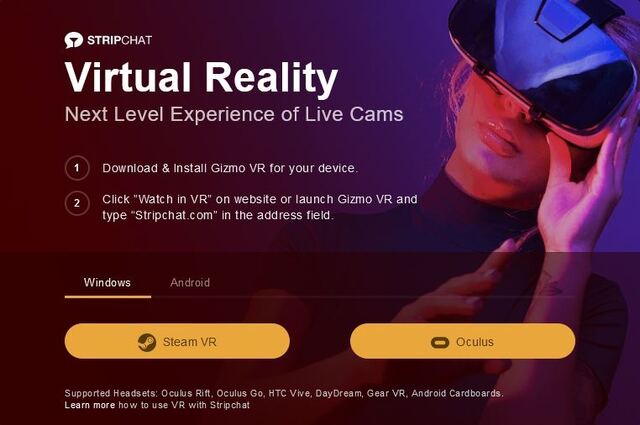 Now, all that's left is to sit back, relax and enjoy the most intimate and life-like sexual experience that the camming industry has to offer.
Take Note
You can also watch 2D cam shows with your VR device, but that's probably not what you're here for. Since you've probably already used your VR headset to watch regular porn, then you're also probably aware of how immersive it is. Well, it takes it up several notches when it's actually live, and the model is right there with you, being directed by you and enthusiastically heeding your every word.
VR rooms are always in HD, and when you watch them on your headset, the show will always look crystal clear and as realistic as one may hope.
This feature is still in its early stages, though, and as much as it's absolutely amazing right now, it'll only get better in time. Stripchat is continuously trying to find ways to improve it and add new interactive features to it. Also, don't expect to see anyone other than solo females offering a VR show. We haven't yet seen and lesbian or straight couples broadcasting in virtual reality.
As of now, most VR headsets are supported by the feature: Oculus Rift, Oculus Go, HTC Vive, DayDream, Gear VR, and Android Cardboards can all be used with Stripchat's VR experience. Also, according to Stripchat, iOS and MacOS versions of VR will soon be available as well.