How to Become a CamSoda Cam Model
CamSoda is a popular freemium chat site that really knows how to treat its models. It has made incentivizing tipping into an art form, and has hosted some of the highest grossing performers in the industry.
Like on Chaturbate, most of the money that you'll be making here will be in the free chat, where you'll be expected to be sensual and alluring at all times. It has around 600 models performing live at any given time, so it will be easier for you to stand out on here than on Chaturbate, and thus make a name for yourself and develop a fan base.
First, though, you'll need to register yourself as a CamSoda cam model. Doing so is rather simple, but to save you some time figuring it out for yourself, here are the 5 easy steps you'll need to take to start making money on CamSoda. Click the button below to get started.
Step 1: Sign up as a model
The above button will take you directly to CamSoda's model registration page. Press the blue SIGNUP AS A MODEL button to continue the process.

Step 2: Choose your username, email and password
You'll need to enter a username, a valid email address, and a password that's longer than 8 characters and contains a lowercase letter, an uppercase letter and a number. Make sure the checkbox next to "I agree with the terms & conditions" is checked and press the pink REGISTER NOW button to continue.

Step 3: Enter your personal details and agree to the Performer Agreement
Enter your first and last name, date of birth, gender and initials. Read the Live Content Performer Agreement, and, if you agree to it, make sure the checkbox next to "By Clicking Next I Am Signing the Performer Agreement" is checked and press Next.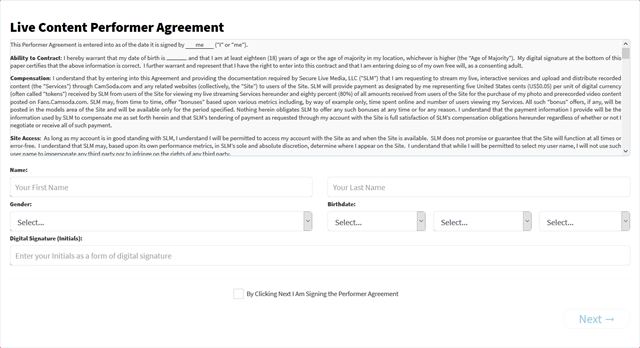 Step 4: Upload documentation
To prove that you're of age, upload two pictures: a high quality picture of your ID, and a picture of you holding your ID next to your face. Once done, press Next.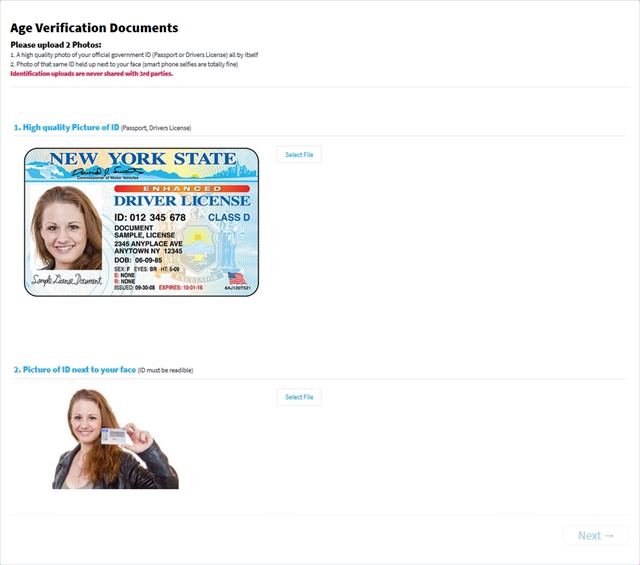 Step 5: Enter valid tax identification and payment information
This is where you enter the details necessary to get paid by the site. This is also where you choose your payment method and minimum payment (the minimum amount CamSoda stores before sending you the payout). If something is unclear, hover your cursor over the question mark on the right of it for more information.
Once you're done, press Submit.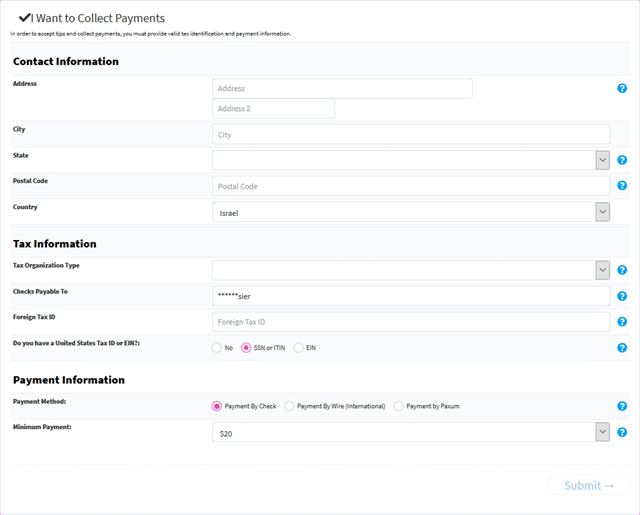 Overview and Tips
CamSoda offers you a lot of freedom in how you choose to perform and what you want to charge for it. Know that, while CamSoda doesn't require you to have an HD webcam, you'll earn more if you have one. It's a one-time investment that will make your show much more noticeable and can help generate more revenue in the long run. The same goes for a remote-controlled sex toy, such as a Lovense Lush, which CamSoda heavily features.
Overall, CamSoda takes good care of its models. It offers:
Regional blocking: So you can stay discreet in the place you're living in and block your family and friends from seeing you in your birthday suit.
DMCA protection: All of your content will be secured from copyright infringement and piracy, meaning that taking videos and pictures of you and using them without your permission is against the law. If you find you image, pictures, videos or recorded webcam shows being used without your permission, you can contact support and CamSoda will send out a legal take-down request on your behalf.
Content and price control: You may sell movies, images or recorded shows of yourself, and you're the one who sets the price for purchasing them.
Cam Splitting: CamSoda allows you to stream on other cam sites, even at the same time that you're streaming on CamSoda.
Health insurance support: Models signed up with CamSoda for six months or more and provide proof of health insurance are eligible to receive health insurance support from the site. If you gross $3,500-$6,999 per month you'll receive a $125 monthly bonus. If you gross over $7,000 per month you'll receive a $250 monthly bonus. This is the only camming site that provides such benefit.
Weekly payout: You get paid weekly, instead of bimonthly like on most cam sites. Here are your payout options:

ACH / Direct Deposit – Fee: $0. Min Payout: $20. You must have a US Bank Account and know your Account Number and Routing Number. Direct Deposit takes 3 days to clear. Payments are issued on Thursdays, and you'll typically receive it the following Monday.
Check – Fee: $0 Min. Payout: $20. Not ideal because it takes longer to get delivered than any other payment method, and because your ability to track it is limited. If you're operating out of the US you should easily be able to set up setup Direct Deposit/ACH, which will be faster and simpler to track.
Wire (Non-US Models) – Fee: $0 Min. Payout: $1,000. International wire can take up to 5 days to clear. Your bank will likely charge you a significant fee.
Paxum – Fee: $0 Min. Payout: $20. You can withdraw funds using a Visa issued by Paxum. You can use an ATM to withdraw cash directly.
You may change your payment method on your earnings page at any time. Payments are sent discreetly, appearing as "chexx" on your account or payment slip. As you can see, no payout option carries a fee, and most options have a minimum payout of only $20, meaning that you'll need to earn at least $20 to receive payment from the site. If you do not earn the minimum amount required within a pay period, your balance will roll over into the next pay period until the minimum is achieved.
Now for the important part; Your commission. On CamSoda the model is paid between $0.05 to $0.055 per each token she earns (in the form of tips, private shows, pre-recorded content and so on). The table below will show you how much you're getting per token spent on you and your content:
| | | | |
| --- | --- | --- | --- |
| Revenue \ Work Hours | 0-10 Hours | 11-25 Hours | 26+ Hours |
| 0-400 Tokens Per Hour | $0.05 per token | $0.05 per token | $0.05 per token |
| 400-800 Tokens Per Hour | $0. 05125 per token | $0. 0525 per token | $0. 05375 per token |
| 800+ Tokens Per Hour | $0. 0525 per token | $0. 05375 per token | $0. 055 per token |
You base pay is $0.05 per token. The bonus is increased by performance and time broadcasting. Each are reset with every pay period. This equates to a 50-55% payout.
The actual payout, though, is significantly more when you consider free tokens given to users by the site, bulk token purchases (which cost less for the user but are worth exactly the same to the model), processing fees covered by the site, and refund and fraud protection, as well as daily, weekly and monthly contests. When you factor these in, about 65% of all gross money spent on CamSoda is sent to models, which is higher than on most webcam sites out there, even the best ones.
CamSoda gives you huge commissions and protects your privacy, your copyrighted works and even your health. There's really not much more you could ask for.