How to Become a ImLive Cam Model
If you don't have the most expensive streaming equipment on the market, or an internet connection that lets you upload whole HD movies in seconds, then you should probably consider streaming on ImLive. It's a popular low-cost cam site with a lot of fans and decent commissions, so you can make good money while starting up and saving your earnings for high quality streaming equipment.
First, though, you'll need to register yourself as an ImLive cam model. Doing so is rather simple, but to save you some time figuring it out for yourself, here are the 4 simple steps you'll need to take to start making money on ImLive. Click the button below to get started.
Step 1: Start the model signup process
At the bottom of the site, you'll see a grey bar with a link to Become a Host.

Click it to start the model signup process.
Step 2: Choose your username, email and password
You'll need to enter a username, a valid email address, and a password.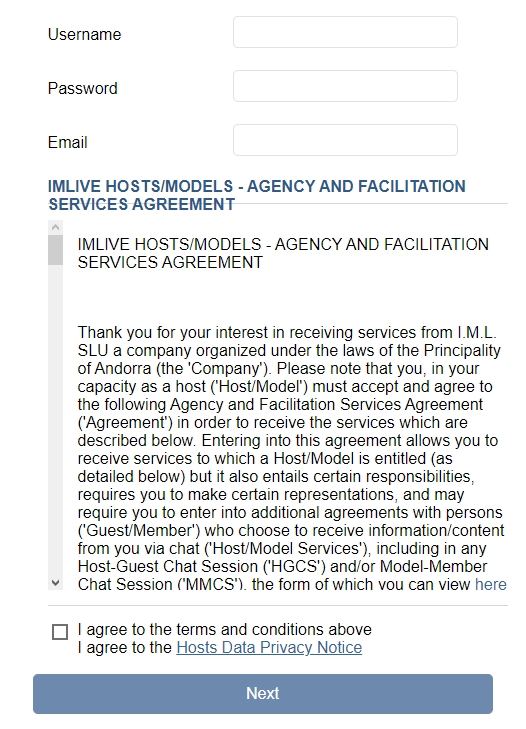 The username is the one you'll use to sign up as a model. It is not your model nickname, which you will be asked to choose later, and needs to be between 60-20 characters (letter and numbers only). The password must start with a letter and be between 60-20 characters characters (letters, numbers & signs).
Read the agreement and, if you agree to the terms and conditions, check the box and click Next.
Step 3: Enter your personal details and agree to the Performer Agreement
Enter your basic details (first and last name, date of birth, gender and so on). These details must match the ones on your ID. This is also where you can choose your nickname. If it is already in use, ImLive will suggest a similar one for you.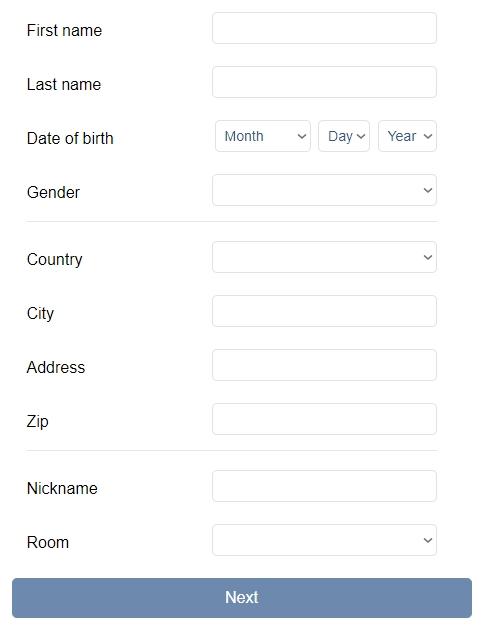 Once you're done, click Next.
Step 4: Upload documentation
To prove that you're of age, you'll need to upload a valid photo ID (front and back), as well as a selfie of you holding the photo ID next to your face. To prove that you're not a bot, you'll need to also upload a photo of yourself holding a page with the current date written on it.
Finally, you'll need to upload a non-sexually-explicit photo of yourself that will be used as your main profile picture. Any other photos you create may be sexually explicit.
By the way, you can be nude in the picture. Nudity by itself is not considered 'sexually explicit'. But, if you act like you're touching yourself down there, then it becomes explicit.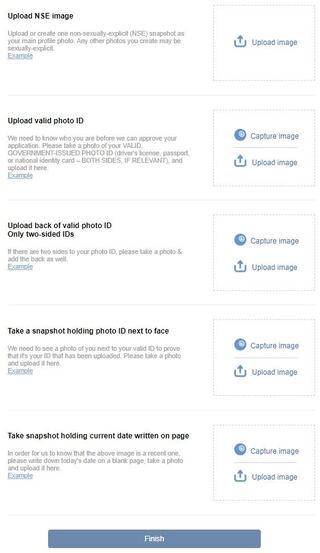 When you're done, click Finish. And that's it, you're done! Your documentation and details will be checked by the ImLive staff and, if everything is in order, you'll be notified and become and official ImLive Host!
Overview and Tips
ImLive is a premium sex chat site, meaning that you won't be showing any skin in open chat, and only get freaky when a viewer, or more, is paying for you to be so. Most of your income will be through private shows and Candy Shows, ImLive's version of group shows where several people can watch you at a time, if they purchase a "ticket."
All in all, working on ImLive is much less demanding then on Chaturbate or CamSoda, for example. You can flirt at your leisure with potential clients until one pony's up, or have a go at a group chat where you're pretty much guaranteed to make a decent amount of money for only about 10 minutes of actual work.
ImLive also offers several benefits to its hosts:
Regional blocking: Also called geo-blocking. This lets you stay discreet in the place you're living in and prevent your family and friends from seeing you perform.
Chargeback protection: ImLive makes sure you get paid even if a member who paid for your show demanded his money back for whatever reason. It also protects you in cases of fraud, where a person used, for instance, a stolen credit card to pay for the time he spent with you. In short, ImLive has you covered.
Bi-monthly payout: You get paid twice a month, on the 16th (for the 1st-15th of the month) and on the 1st (from the 16th to the end of the month). You will be paid based on services rendered according to the following guidelines:

All ImLive models (referred to as Hosts by ImLive) start with 30% commission from private chat earnings.
The top 120 models of each pay period (referred to as Hall of Fame Hosts) will earn 35% the following pay period. For example, if a host is one of the top earners of the current pay period, she will earn 35% during the next pay period.
The top 80 most attentive models (according to viewer votes) for each pay period will also receive 35% commission during the following pay period.
If a model makes the Hall of Fame and is one of the most attentive hosts for the same pay period, the model will receive 38% commission from private sessions. That is as long as the member joins a private session after visiting the model in free chat first. If he entered private without doing so, the model's commission rate remains 35%.
When a new member to the site signs up through a model's referral link, the model will receive 70% of the member's spending. The model will also receive 30% commission when this member spends credits on other models on the site.
When a model converts a free member (meaning a member who has made a user account but has not yet purchased credits) to a paying member, and he spends the first of his purchased credits on her, then the model earns 100% of that. Sadly, this only applies to every converted member beyond the second for each pay period.
ImLive also offers continuous benefits and competitions where the models can win cash prizes, luxury gifts and more, but only the most successful and popular models on the site get to enjoy these.
Now, for how and when you get your money:
Upon registering for ImLive as a model, you choose to have checks mailed when your earnings reach either $50, $100, or $500. When the total amount of your earnings reaches your chosen payment amount or higher, you will receive your payment check from ImLive. If your earnings are not equal to or greater than your chosen check for the payment period, your earnings will carry over to the next payment period and will be added to your total earnings.
Checks are sent out from a third party company that works with ImLive called Webmaster Checks, no later than 5 business days from the last day of each payment period. If the 1st or the 16th falls on a holiday or weekend, the money will be sent the following business day.
You can choose between 3 options of how the checks are to be sent to you: Regular Mail, Firstchoice Pay or a courier shipping (available to US and Canada residents only). Note that the cost of a courier shipping is $48, which will be deducted from your earnings. In order to use this method of shipment, your minimum check amount must be at least $100, and your address may not be a P.O. Box.
You will not be able to change your preferred method of payment during the first and last 48 hours of each pay period. You will be able to contact ImLive model support 24 hours a day, 7 days a week to confirm the check payment, and for assistance in any payment matter.
Overall, ImLive takes good care of its performers, but it's not as lucrative or as glamorous as, say, LiveJasmin or Flirt4Free. So, if you have the money for a high quality HD webcam and high speed internet connection, consider those options. If not, then there are few better places for you to start than on ImLive.